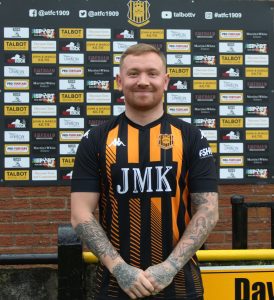 Position

Forward

Past Teams

Ayr United
SPONSORED BY: BILLY BLACKMORE DRIVING SCHOOL.

POSITION: Striker
JOINED TALBOT: OCTOBER 2014
D.O.B 11/07/1995
SQUAD NUMBER: 15
BIO: Mark is a former Ayr United player who joined Talbot in October 2014. In the final League match of the 2010/11 season , he came off the bench to become the youngest ever player for Ayr United at just 15 years and 300 days old, the record previously held by Stewart Kean at 17 years and 56 days.  At the start of the 2012/13 season, Shankland broke another one of Stewart Kean's records, becoming the youngest ever goalscorer at 17 years and 17 days old, in a 3–1 away defeat at East Stirlingshire in the Challenge Cup  This record was broken by Alan Forrest the following season.
In 2013, Shankland joined League Two side, Albion Rovers on loan. He scored in the final minute in his debut for The Rovers. He left Ayr at the end of the 2013–14 season after turning down a new contract.
Indigo Comms WOSL Cup
| Season | Team | Appearances | Goals | Assists | YC | RC | Win Ratio | Draw Ratio | Loss Ratio |
| --- | --- | --- | --- | --- | --- | --- | --- | --- | --- |
| 2021/22 | Auchinleck Talbot | 1 | 0 | 0 | 0 | 0 | 0.00 | 0.00 | 100.00 |
| 2022/23 | Auchinleck Talbot | 3 | 1 | 3 | 0 | 0 | 66.67 | 0.00 | 0.00 |
| Total | - | 4 | 1 | 3 | 0 | 0 | 66.67 | 0 | 100 |
SCOTTISH CUP
| Season | Team | Appearances | Goals | Assists | YC | RC | Win Ratio | Draw Ratio | Loss Ratio |
| --- | --- | --- | --- | --- | --- | --- | --- | --- | --- |
| 2021/22 | Auchinleck Talbot | 3 | 1 | 0 | 0 | 0 | 33.33 | 0.00 | 0.00 |
| 2022/23 | Auchinleck Talbot | 2 | 0 | 0 | 0 | 0 | 0.00 | 50.00 | 0.00 |
| Total | - | 5 | 1 | 0 | 0 | 0 | 33.33 | 50 | 0 |
Clydebuilt SCOTTISH JUNIOR CUP
| Season | Team | Appearances | Goals | Assists | YC | RC | Win Ratio | Draw Ratio | Loss Ratio |
| --- | --- | --- | --- | --- | --- | --- | --- | --- | --- |
| 2021/22 | Auchinleck Talbot | 4 | 1 | 0 | 0 | 0 | 75.00 | 0.00 | 0.00 |
| 2022/23 | Auchinleck Talbot | 3 | 1 | 0 | 1 | 0 | 33.33 | 33.33 | 0.00 |
| Total | - | 7 | 2 | 0 | 1 | 0 | 108.33 | 33.33 | 0 |
SOUTH REGION CHALLENGE CUP
| Season | Team | Appearances | Goals | Assists | YC | RC | Win Ratio | Draw Ratio | Loss Ratio |
| --- | --- | --- | --- | --- | --- | --- | --- | --- | --- |
| 2021/22 | Auchinleck Talbot | 5 | 0 | 3 | 2 | 0 | 60.00 | 0.00 | 0.00 |
| 2022/23 | Auchinleck Talbot | 4 | 2 | 2 | 0 | 0 | 75.00 | 0.00 | 0.00 |
| Total | - | 9 | 2 | 5 | 2 | 0 | 135 | 0 | 0 |
PDM BUILDBASE WOSL PREMIER
| Season | Team | Appearances | Goals | Assists | YC | RC | Win Ratio | Draw Ratio | Loss Ratio |
| --- | --- | --- | --- | --- | --- | --- | --- | --- | --- |
| 2021/22 | Auchinleck Talbot | 31 | 12 | 7 | 4 | 1 | 45.16 | 6.45 | 6.45 |
| 2022/23 | Auchinleck Talbot | 9 | 5 | 1 | 1 | 1 | 44.44 | 0.00 | 0.00 |
| Total | - | 40 | 17 | 8 | 5 | 2 | 89.6 | 6.45 | 6.45 |
Career Total
| Season | Appearances | Goals | Assists | YC | RC | Win Ratio | Draw Ratio | Loss Ratio |
| --- | --- | --- | --- | --- | --- | --- | --- | --- |
| 2021/22 | 44 | 14 | 10 | 6 | 1 | 47.73 | 4.55 | 6.82 |
| 2022/23 | 21 | 9 | 6 | 2 | 1 | 47.62 | 9.52 | 0.00 |
| Total | 65 | 23 | 16 | 8 | 2 | 95.35 | 14.07 | 6.82 |
| Date | Home | Results | Away | Time |
| --- | --- | --- | --- | --- |
| 2023-03-04 14:00:44March 4, 2023 | Auchinleck Talbot | 1 - 0 | East Killbride FC | 14:00:4414:00 |
| 2023-02-25 14:00:21February 25, 2023 | Auchinleck Talbot | 0 - 0 | Glenafton Athletic | 14:00:2114:00 |
| 2023-02-18 14:00:11February 18, 2023 | Kirkintilloch Rob Roy | 0 - 0 | Auchinleck Talbot | 14:00:1114:00 |
| 2023-02-11 14:00:42February 11, 2023 | Auchinleck Talbot | 2 - 1 | Pollok | 14:00:4214:00 |
| 2023-02-04 14:00:14February 4, 2023 | Auchinleck Talbot | 7 - 0 | Broxburn Athletic | 14:00:1414:00 |
| 2023-01-28 14:00:04January 28, 2023 | Auchinleck Talbot | 2 - 0 | Petershill | 14:00:0414:00 |
| 2023-01-25 19:30:11January 25, 2023 | Auchinleck Talbot | 3 - 0 | Largs Thistle | 19:30:1119:30 |
| 2023-01-07 14:00:46January 7, 2023 | Auchinleck Talbot | 1 - 0 | Johnstone Burgh | 14:00:4614:00 |
| 2022-12-31 13:30:53December 31, 2022 | Auchinleck Talbot | 3 - 1 | Hurlford United | 13:30:5313:30 |
| 2022-12-03 13:45:46December 3, 2022 | Cumnock | 0 - 0 | Auchinleck Talbot | 13:45:4613:45 |
| 2022-11-26 15:00:36November 26, 2022 | Raith Rovers | 3 - 0 | Auchinleck Talbot | 15:00:3615:00 |
| 2022-11-19 14:00:16November 19, 2022 | Auchinleck Talbot | 3 - 0 | Neilston | 14:00:1614:00 |
| 2022-11-12 14:00:45November 12, 2022 | Auchinleck Talbot | 4 - 1 | Muirkirk Juniors | 14:00:4514:00 |
| 2022-11-09 19:30:58November 9, 2022 | Kilwinning Rangers | 0 - 6 | Auchinleck Talbot | 19:30:5819:30 |
| 2022-11-05 14:00:20November 5, 2022 | Auchinleck Talbot | 3 - 1 | Glenafton Athletic | 14:00:2014:00 |
| 2022-10-29 14:00:28October 29, 2022 | Auchinleck Talbot | 3 - 1 | Darvel | 14:00:2814:00 |
| 2022-10-22 15:00:55October 22, 2022 | Bo'ness United | 1 - 1 | Auchinleck Talbot | 15:00:5515:00 |
| 2022-10-15 14:00:47October 15, 2022 | Auchinleck Talbot | 5 - 0 | Craigmark Burntonians | 14:00:4714:00 |
| 2022-10-08 14:00:01October 8, 2022 | Auchinleck Talbot | 1 - 2 | Kirkintilloch Rob Roy | 14:00:0114:00 |
| 2022-10-01 14:00:00October 1, 2022 | Pollok | 1 - 1 | Auchinleck Talbot | 14:00:0014:00 |
| 2022-09-24 15:00:16September 24, 2022 | Rossvale | 2 - 4 | Auchinleck Talbot | 15:00:1615:00 |
| 2022-06-04 16:10:24June 4, 2022 | Auchinleck Talbot | 2 - 0 | Yoker Athletic | 16:10:2416:10 |
| 2022-05-22 15:00:05May 22, 2022 | Auchinleck Talbot | 3 - 1 | Bonnyrigg Rose | 15:00:0515:00 |
| 2022-05-14 14:00:56May 14, 2022 | Cumbernauld United | 0 - 5 | Auchinleck Talbot | 14:00:5614:00 |
| 2022-05-04 19:30:58May 4, 2022 | Auchinleck Talbot | 0 - 1 | Kirkintilloch Rob Roy | 19:30:5819:30 |
| 2022-04-23 14:00:18April 23, 2022 | Benburb FC | 2 - 2 | Auchinleck Talbot | 14:00:1814:00 |
| 2022-04-20 18:30:40April 20, 2022 | Auchinleck Talbot | 1 - 1 | | 18:30:4018:30 |
| 2022-04-18 19:30:21April 18, 2022 | Darvel | 2 - 2 | Auchinleck Talbot | 19:30:2119:30 |
| 2022-04-16 14:30:11April 16, 2022 | Auchinleck Talbot | 2 - 1 | Kirkintilloch Rob Roy | 14:30:1114:30 |
| 2022-04-13 19:30:16April 13, 2022 | Auchinleck Talbot | 6 - 0 | Rutherglen Glencairn | 19:30:1619:30 |
| 2022-04-09 14:00:41April 9, 2022 | Largs Thistle | 1 - 1 | Auchinleck Talbot | 14:00:4114:00 |
| 2022-04-02 14:00:49April 2, 2022 | Auchinleck Talbot | 2 - 1 | Pollok | 14:00:4914:00 |
| 2022-03-27 09:38:19March 27, 2022 | Auchinleck Talbot | 3 - 0 | Bonnyton Thistle | 09:38:1909:38 |
| 2022-03-05 14:00:46March 5, 2022 | Irvine Meadow | 1 - 3 | Auchinleck Talbot | 14:00:4614:00 |
| 2022-02-23 19:30:58February 23, 2022 | Auchinleck Talbot | 0 - 0 | Kilbirnie Ladeside | 19:30:5819:30 |
| 2022-02-19 14:00:22February 19, 2022 | Troon | 0 - 2 | Auchinleck Talbot | 14:00:2214:00 |
| 2021-12-18 13:30:01December 18, 2021 | Kilwinning Rangers | 1 - 0 | Auchinleck Talbot | 13:30:0113:30 |
| 2021-12-11 13:00:19December 11, 2021 | Kirkintilloch Rob Roy | 1 - 0 | Auchinleck Talbot | 13:00:1913:00 |
| 2021-12-04 14:00:13December 4, 2021 | Auchinleck Talbot | 5 - 0 | Benburb FC | 14:00:1314:00 |
| 2021-11-27 15:00:50November 27, 2021 | Auchinleck Talbot | 1 - 0 | Hamilton Academicals | 15:00:5015:00 |
| 2021-11-20 14:00:40November 20, 2021 | Auchinleck Talbot | 7 - 1 | West Calder United | 14:00:4014:00 |
| 2021-11-13 14:00:23November 13, 2021 | Clydebank | 0 - 2 | Auchinleck Talbot | 14:00:2314:00 |
| 2021-11-06 14:00:41November 6, 2021 | Irvine Meadow | 1 - 5 | Auchinleck Talbot | 14:00:4114:00 |
| 2021-10-23 15:00:02October 23, 2021 | Preston Athletic | 0 - 2 | Auchinleck Talbot | 15:00:0215:00 |
| 2021-10-16 14:00:02October 16, 2021 | Auchinleck Talbot | 1 - 0 | Forth Wanderers | 14:00:0214:00 |
| 2021-10-13 19:30:30October 13, 2021 | Auchinleck Talbot | 1 - 2 | Darvel | 19:30:3019:30 |
| 2021-10-09 14:00:30October 9, 2021 | Auchinleck Talbot | 1 - 0 | | 14:00:3014:00 |
| 2021-10-02 14:00:57October 2, 2021 | Pollok | 3 - 3 | Auchinleck Talbot | 14:00:5714:00 |
| 2021-09-29 19:30:25September 29, 2021 | Rossvale | 0 - 1 | Auchinleck Talbot | 19:30:2519:30 |
| 2021-09-25 14:30:15September 25, 2021 | Carluke Rovers | 1 - 2 | Auchinleck Talbot | 14:30:1514:30 |
| 2021-09-18 15:00:31September 18, 2021 | Irvine Meadow | 1 - 3 | Auchinleck Talbot | 15:00:3115:00 |
| 2021-09-11 14:00:07September 11, 2021 | Blantyre Victoria | 0 - 3 | Auchinleck Talbot | 14:00:0714:00 |
| 2021-09-04 14:00:38September 4, 2021 | Cumnock | 2 - 3 | Auchinleck Talbot | 14:00:3814:00 |
| 2021-08-28 14:00:11August 28, 2021 | Auchinleck Talbot | 3 - 0 | Cumbernauld United | 14:00:1114:00 |
| 2021-08-21 14:30:58August 21, 2021 | Auchinleck Talbot | 3 - 1 | Montrose Roselea | 14:30:5814:30 |
| 2021-08-18 19:30:32August 18, 2021 | Auchinleck Talbot | 1 - 1 | Beith Juniors | 19:30:3219:30 |
| 2021-08-14 14:00:04August 14, 2021 | Rutherglen Glencairn | 0 - 1 | Auchinleck Talbot | 14:00:0414:00 |
| 2021-08-11 19:30:36August 11, 2021 | Auchinleck Talbot | 2 - 0 | Glenafton Athletic | 19:30:3619:30 |
| 2021-08-07 14:00:40August 7, 2021 | Bonnyton Thistle | 0 - 2 | Auchinleck Talbot | 14:00:4014:00 |
| 2021-08-04 19:30:06August 4, 2021 | Auchinleck Talbot | 2 - 1 | Largs Thistle | 19:30:0619:30 |
| 2021-07-31 14:00:14July 31, 2021 | Auchinleck Talbot | 3 - 1 | Blantyre Victoria | 14:00:1414:00 |
| 2021-07-28 19:30:11July 28, 2021 | Kilbirnie Ladeside | 1 - 4 | Auchinleck Talbot | 19:30:1119:30 |
| 2021-07-24 14:00:02July 24, 2021 | Auchinleck Talbot | 2 - 1 | Troon | 14:00:0214:00 |
| 2021-07-21 19:30:23July 21, 2021 | Kirkintilloch Rob Roy | 0 - 2 | Auchinleck Talbot | 19:30:2319:30 |
| 2021-07-17 14:00:36July 17, 2021 | Auchinleck Talbot | 2 - 2 | Clydebank | 14:00:3614:00 |
| 2020-02-08 14:00:10February 8, 2020 | Auchinleck Talbot | 2 - 1 | Rutherglen Glencairn | 14:00:1014:00 |
| 2020-02-01 14:00:08February 1, 2020 | Rossvale | 1 - 2 | Auchinleck Talbot | 14:00:0814:00 |
| 2020-01-18 13:45:38January 18, 2020 | Auchinleck Talbot | 5 - 0 | Benburb FC | 13:45:3813:45 |
| 2020-01-04 13:45:18January 4, 2020 | Auchinleck Talbot | 4 - 0 | Beith Juniors | 13:45:1813:45 |
| 2019-12-21 13:45:33December 21, 2019 | Auchinleck Talbot | 5 - 2 | Kilbirnie Ladeside | 13:45:3313:45 |
| 2019-12-14 13:45:29December 14, 2019 | Troon | 0 - 2 | Auchinleck Talbot | 13:45:2913:45 |
| 2019-12-07 13:45:05December 7, 2019 | Auchinleck Talbot | 6 - 1 | Kilwinning Rangers | 13:45:0513:45 |
| 2019-11-30 13:45:49November 30, 2019 | Rossvale | 1 - 2 | Auchinleck Talbot | 13:45:4913:45 |
| 2019-11-27 19:45:31November 27, 2019 | Arbroath | 3 - 0 | Auchinleck Talbot | 19:45:3119:45 |
| 2019-11-23 13:45:19November 23, 2019 | Auchinleck Talbot | 1 - 1 | Arbroath | 13:45:1913:45 |
| 2019-11-16 13:45:23November 16, 2019 | Glenafton Athletic | 3 - 0 | Auchinleck Talbot | 13:45:2313:45 |
| 2019-11-09 14:00:47November 9, 2019 | Auchinleck Talbot | 4 - 0 | Forth Wanderers | 14:00:4714:00 |
| 2019-11-02 14:00:16November 2, 2019 | Auchinleck Talbot | 3 - 0 | Clydebank | 14:00:1614:00 |
| 2019-10-26 14:00:22October 26, 2019 | Auchinleck Talbot | 3 - 0 | Forfar West end | 14:00:2214:00 |
| 2019-10-19 14:30:35October 19, 2019 | Auchinleck Talbot | 1 - 0 | Cove Rangers | 14:30:3514:30 |
| 2019-10-13 14:00:11October 13, 2019 | Auchinleck Talbot | 6 - 1 | Lanark United | 14:00:1114:00 |
| 2019-10-05 14:00:58October 5, 2019 | Auchinleck Talbot | 3 - 1 | Pollok | 14:00:5814:00 |
| 2019-09-28 14:30:41September 28, 2019 | Auchinleck Talbot | 7 - 0 | Bellshill Athletic | 14:30:4114:30 |
| 2019-09-20 19:05:35September 20, 2019 | Kelty Hearts | 0 - 3 | Auchinleck Talbot | 19:05:3519:05 |
| 2019-09-14 14:00:17September 14, 2019 | Auchinleck Talbot | 1 - 1 | | 14:00:1714:00 |
| 2019-09-07 14:00:16September 7, 2019 | Largs Thistle | 3 - 4 | Auchinleck Talbot | 14:00:1614:00 |
| 2019-08-31 15:00:31August 31, 2019 | Camelon Juniors | 0 - 2 | Auchinleck Talbot | 15:00:3115:00 |
| 2019-08-28 18:30:08August 28, 2019 | Beith Juniors | 1 - 2 | Auchinleck Talbot | 18:30:0818:30 |
| 2019-08-24 14:00:56August 24, 2019 | Auchinleck Talbot | 6 - 0 | Whitletts Victoria | 14:00:5614:00 |
| 2019-08-21 18:45:28August 21, 2019 | Auchinleck Talbot | 8 - 1 | Troon | 18:45:2818:45 |
| 2019-08-17 15:00:54August 17, 2019 | Auchinleck Talbot | 6 - 1 | Dundonald Bluebell | 15:00:5415:00 |
| 2019-08-12 18:45:11August 12, 2019 | Auchinleck Talbot | 3 - 0 | Kello Rovers | 18:45:1118:45 |
| 2019-08-10 15:00:40August 10, 2019 | Dundonald Bluebell | 2 - 2 | Auchinleck Talbot | 15:00:4015:00 |
| 2019-08-07 19:00:38August 7, 2019 | Kilwinning Rangers | 0 - 0 | Auchinleck Talbot | 19:00:3819:00 |
| 2019-08-03 14:00:07August 3, 2019 | Auchinleck Talbot | 4 - 1 | Glenafton Athletic | 14:00:0714:00 |
| 2019-07-31 19:00:54July 31, 2019 | Darvel | 0 - 1 | Auchinleck Talbot | 19:00:5419:00 |
| 2019-07-29 19:00:09July 29, 2019 | Auchinleck Talbot | 0 - 2 | | 19:00:0919:00 |
| 2019-07-27 14:00:26July 27, 2019 | Auchinleck Talbot | 4 - 0 | Glenafton Athletic | 14:00:2614:00 |
| 2019-06-07 19:30:16June 7, 2019 | Glenafton Athletic | 1 - 5 | Auchinleck Talbot | 19:30:1619:30 |
| 2019-06-02 16:10:52June 2, 2019 | Auchinleck Talbot | 2 - 0 | Largs Thistle | 16:10:5216:10 |
| 2019-05-25 13:00:51May 25, 2019 | Beith Juniors | 0 - 5 | Auchinleck Talbot | 13:00:5113:00 |
| 2019-05-22 19:30:55May 22, 2019 | Auchinleck Talbot | 2 - 0 | Pollok | 19:30:5519:30 |
| 2019-05-18 14:00:11May 18, 2019 | Kirkintilloch Rob Roy | 1 - 2 | Auchinleck Talbot | 14:00:1114:00 |
| 2019-05-15 19:15:56May 15, 2019 | Troon | 0 - 5 | Auchinleck Talbot | 19:15:5619:15 |
| 2019-05-13 19:00:49May 13, 2019 | Cambuslang Rangers | 0 - 3 | Auchinleck Talbot | 19:00:4919:00 |
| 2019-05-11 14:00:57May 11, 2019 | Auchinleck Talbot | 1 - 0 | Largs Thistle | 14:00:5714:00 |
| 2019-05-08 19:00:10May 8, 2019 | Kilwinning Rangers | 0 - 1 | Auchinleck Talbot | 19:00:1019:00 |
| 2019-05-04 13:00:04May 4, 2019 | Auchinleck Talbot | 3 - 4 | Kirkintilloch Rob Roy | 13:00:0413:00 |
| 2019-05-01 18:45:33May 1, 2019 | Auchinleck Talbot | 1 - 0 | Petershill | 18:45:3318:45 |
| 2019-04-10 19:00:59April 10, 2019 | Clydebank | 2 - 3 | Auchinleck Talbot | 19:00:5919:00 |
| 2019-03-09 14:00:04March 9, 2019 | Cumnock | 0 - 1 | Auchinleck Talbot | 14:00:0414:00 |
| 2019-03-02 14:00:36March 2, 2019 | Auchinleck Talbot | 9 - 1 | Cambuslang Rangers | 14:00:3614:00 |
| 2019-02-23 14:00:47February 23, 2019 | Pollok | 0 - 3 | Auchinleck Talbot | 14:00:4714:00 |
| 2019-02-16 14:00:58February 16, 2019 | Auchinleck Talbot | 3 - 0 | Kirkintilloch Rob Roy | 14:00:5814:00 |
| 2019-02-10 15:00:02February 10, 2019 | Hearts Of Midlothian | 4 - 0 | Auchinleck Talbot | 15:00:0215:00 |
| 2019-02-02 14:00:47February 2, 2019 | Petershill | 0 - 7 | Auchinleck Talbot | 14:00:4714:00 |
| 2019-01-26 13:45:12January 26, 2019 | Auchinleck Talbot | 4 - 1 | Rutherglen Glencairn | 13:45:1213:45 |
| 2019-01-19 12:15:30January 19, 2019 | Auchinleck Talbot | 1 - 0 | Ayr United | 12:15:3012:15 |
| 2019-01-12 13:30:29January 12, 2019 | Auchinleck Talbot | 3 - 1 | Cumnock | 13:30:2913:30 |
| 2019-01-05 13:45:06January 5, 2019 | Irvine Meadow | 1 - 2 | Auchinleck Talbot | 13:45:0613:45 |
| 2018-10-14 13:30:24October 14, 2018 | Auchinleck Talbot | 6 - 1 | Lesmahagow Juniors | 13:30:2413:30 |
| 2018-10-06 14:00:36October 6, 2018 | Auchinleck Talbot | 0 - 1 | Glenafton Athletic | 14:00:3614:00 |
| 2018-09-29 14:30:25September 29, 2018 | Auchinleck Talbot | 4 - 2 | Forfar West end | 14:30:2514:30 |
| 2018-09-15 14:00:11September 15, 2018 | Auchinleck Talbot | 3 - 1 | Kilwinning Rangers | 14:00:1114:00 |
| 2018-09-08 14:00:19September 8, 2018 | Pollok | 1 - 2 | Auchinleck Talbot | 14:00:1914:00 |
| 2018-09-01 15:00:09September 1, 2018 | Auchinleck Talbot | 10 - 0 | Wigton & Bladnoch | 15:00:0915:00 |
| 2018-08-29 18:30:38August 29, 2018 | Auchinleck Talbot | 2 - 1 | Kilwinning Rangers | 18:30:3818:30 |
| 2018-08-25 14:00:08August 25, 2018 | Auchinleck Talbot | 1 - 0 | Beith Juniors | 14:00:0814:00 |
| 2018-08-20 18:45:56August 20, 2018 | Auchinleck Talbot | 3 - 1 | Whitletts Victoria | 18:45:5618:45 |
| 2018-08-18 14:00:45August 18, 2018 | Auchinleck Talbot | 4 - 0 | Clydebank | 14:00:4514:00 |
| 2018-08-15 19:00:44August 15, 2018 | Cumnock | 0 - 2 | Auchinleck Talbot | 19:00:4419:00 |
| 2018-08-11 15:00:56August 11, 2018 | Auchinleck Talbot | 3 - 1 | Banks O' Dee | 15:00:5615:00 |
| 2018-08-08 19:00:48August 8, 2018 | Auchinleck Talbot | 1 - 1 | Troon | 19:00:4819:00 |
| 2018-08-04 14:00:52August 4, 2018 | Largs Thistle | 0 - 1 | Auchinleck Talbot | 14:00:5214:00 |
| 2018-08-01 18:45:32August 1, 2018 | Auchinleck Talbot | 2 - 1 | | 18:45:3218:45 |
| 2018-07-30 18:45:20July 30, 2018 | Glenafton Athletic | 0 - 3 | Auchinleck Talbot | 18:45:2018:45 |
| 2018-07-28 14:00:28July 28, 2018 | Auchinleck Talbot | 1 - 2 | Darvel | 14:00:2814:00 |
| 2018-06-11 19:30:28June 11, 2018 | Auchinleck Talbot | 1 - 0 | | 19:30:2819:30 |
| 2018-06-06 19:30:12June 6, 2018 | Girvan FC | 0 - 0 | Auchinleck Talbot | 19:30:1219:30 |
| 2018-06-02 19:38:43June 2, 2018 | Cumnock | 2 - 2 | Auchinleck Talbot | 19:38:4319:38 |
| 2018-05-30 19:30:25May 30, 2018 | Auchinleck Talbot | 1 - 2 | Beith Juniors | 19:30:2519:30 |
| 2018-05-27 16:10:54May 27, 2018 | Auchinleck Talbot | 3 - 2 | | 16:10:5416:10 |
| 2018-05-19 14:00:30May 19, 2018 | Auchinleck Talbot | 1 - 2 | Pollok | 14:00:3014:00 |
| 2018-05-16 19:15:29May 16, 2018 | Auchinleck Talbot | 3 - 0 | Girvan FC | 19:15:2919:15 |
| 2018-05-14 19:15:51May 14, 2018 | Auchinleck Talbot | 2 - 1 | Glenafton Athletic | 19:15:5119:15 |
| 2018-05-12 14:00:27May 12, 2018 | Troon | 1 - 3 | Auchinleck Talbot | 14:00:2714:00 |
| 2018-05-09 19:00:04May 9, 2018 | Girvan FC | 1 - 5 | Auchinleck Talbot | 19:00:0419:00 |
| 2018-05-05 14:00:04May 5, 2018 | Kilwinning Rangers | 0 - 1 | Auchinleck Talbot | 14:00:0414:00 |
| 2018-05-02 19:00:59May 2, 2018 | Kilbirnie Ladeside | 1 - 3 | Auchinleck Talbot | 19:00:5919:00 |
| 2018-04-30 19:00:29April 30, 2018 | Auchinleck Talbot | 1 - 0 | | 19:00:2919:00 |
| 2018-04-28 14:00:13April 28, 2018 | Auchinleck Talbot | 4 - 0 | Arthurlie | 14:00:1314:00 |
| 2018-04-21 14:30:11April 21, 2018 | Lochee United | 0 - 2 | Auchinleck Talbot | 14:30:1114:30 |
| 2018-04-14 14:30:01April 14, 2018 | Auchinleck Talbot | 0 - 1 | Lochee United | 14:30:0114:30 |
| 2018-04-07 14:00:41April 7, 2018 | Whitletts Victoria | 0 - 2 | Auchinleck Talbot | 14:00:4114:00 |
| 2018-03-31 14:00:37March 31, 2018 | Auchinleck Talbot | 2 - 1 | St Rochs | 14:00:3714:00 |
| 2018-03-24 14:00:03March 24, 2018 | Clydebank | 3 - 1 | Auchinleck Talbot | 14:00:0314:00 |
| 2018-03-17 14:30:46March 17, 2018 | Carnoustie Panmure | 0 - 2 | Auchinleck Talbot | 14:30:4614:30 |
| 2018-02-17 14:00:29February 17, 2018 | Auchinleck Talbot | 4 - 1 | Pollok | 14:00:2914:00 |
| 2018-02-03 14:00:12February 3, 2018 | Pollok | 1 - 2 | Auchinleck Talbot | 14:00:1214:00 |
| 2018-01-27 13:45:15January 27, 2018 | Cumnock | 1 - 5 | Auchinleck Talbot | 13:45:1513:45 |
| 2018-01-13 13:45:02January 13, 2018 | Auchinleck Talbot | 5 - 0 | Kilbirnie Ladeside | 13:45:0213:45 |
| 2018-01-06 13:45:17January 6, 2018 | Glenafton Athletic | 0 - 1 | Auchinleck Talbot | 13:45:1713:45 |
| 2017-12-30 13:45:32December 30, 2017 | Auchinleck Talbot | 0 - 1 | Kilwinning Rangers | 13:45:3213:45 |
| 2017-12-23 13:30:09December 23, 2017 | Hill O' Beath | 0 - 2 | Auchinleck Talbot | 13:30:0913:30 |
| 2017-11-18 13:45:36November 18, 2017 | Auchinleck Talbot | 4 - 1 | Kirkintilloch Rob Roy | 13:45:3613:45 |
| 2017-11-11 14:00:17November 11, 2017 | Auchinleck Talbot | 1 - 0 | Carluke Rovers | 14:00:1714:00 |
| 2017-09-16 14:00:02September 16, 2017 | Beith Juniors | 2 - 0 | Auchinleck Talbot | 14:00:0214:00 |
| 2017-09-09 14:00:17September 9, 2017 | Auchinleck Talbot | 5 - 0 | Clydebank | 14:00:1714:00 |
| 2017-08-30 18:30:40August 30, 2017 | Irvine Victoria | 0 - 1 | Auchinleck Talbot | 18:30:4018:30 |
| 2017-08-26 14:00:06August 26, 2017 | Auchinleck Talbot | 4 - 1 | | 14:00:0614:00 |
| 2017-08-19 14:00:33August 19, 2017 | Kirkintilloch Rob Roy | 4 - 3 | Auchinleck Talbot | 14:00:3314:00 |
| 2017-08-16 18:45:38August 16, 2017 | Auchinleck Talbot | 16 - 0 | Muirkirk Juniors | 18:45:3818:45 |
| 2017-08-12 14:00:44August 12, 2017 | Auchinleck Talbot | 4 - 0 | Kello Rovers | 14:00:4414:00 |
| 2017-08-09 18:45:35August 9, 2017 | Lugar Boswell | 0 - 5 | Auchinleck Talbot | 18:45:3518:45 |
| 2017-08-05 14:00:39August 5, 2017 | Cumnock | 0 - 1 | Auchinleck Talbot | 14:00:3914:00 |
| 2017-08-02 18:45:21August 2, 2017 | Auchinleck Talbot | 0 - 1 | Glenafton Athletic | 18:45:2118:45 |
| 2017-06-14 19:30:35June 14, 2017 | Auchinleck Talbot | 5 - 1 | Cumnock | 19:30:3519:30 |
| 2017-06-12 19:30:43June 12, 2017 | Largs Thistle | 0 - 0 | Auchinleck Talbot | 19:30:4319:30 |
| 2017-06-04 16:15:54June 4, 2017 | Auchinleck Talbot | 1 - 2 | Glenafton Athletic | 16:15:5416:15 |
| 2017-05-24 19:30:13May 24, 2017 | Auchinleck Talbot | 0 - 1 | Cumnock | 19:30:1319:30 |
| 2017-05-22 19:30:41May 22, 2017 | Auchinleck Talbot | 0 - 2 | Kilwinning Rangers | 19:30:4119:30 |
| 2017-05-20 14:00:17May 20, 2017 | Beith Juniors | 3 - 0 | Auchinleck Talbot | 14:00:1714:00 |
| 2017-05-17 19:15:50May 17, 2017 | Darvel | 1 - 3 | Auchinleck Talbot | 19:15:5019:15 |
| 2017-05-13 14:00:19May 13, 2017 | Auchinleck Talbot | 1 - 0 | Troon | 14:00:1914:00 |
| 2017-05-10 19:00:57May 10, 2017 | Auchinleck Talbot | 7 - 1 | Ardrossan Winton Rovers | 19:00:5719:00 |
| 2017-04-15 14:30:00April 15, 2017 | Linlithgow Rose | 0 - 0 | Auchinleck Talbot | 14:30:0014:30 |
| 2017-04-08 14:00:43April 8, 2017 | Maybole Juniors | 0 - 2 | Auchinleck Talbot | 14:00:4314:00 |
| 2017-04-01 14:00:50April 1, 2017 | Cumnock | 0 - 1 | Auchinleck Talbot | 14:00:5014:00 |
| 2017-03-25 14:00:58March 25, 2017 | Auchinleck Talbot | 1 - 0 | Kirkintilloch Rob Roy | 14:00:5814:00 |
| 2017-03-18 14:30:38March 18, 2017 | Auchinleck Talbot | 2 - 0 | Kilwinning Rangers | 14:30:3814:30 |
| 2017-03-11 14:00:52March 11, 2017 | Auchinleck Talbot | 2 - 1 | Pollok | 14:00:5214:00 |
| 2017-03-04 14:00:30March 4, 2017 | Kilbirnie Ladeside | 0 - 1 | Auchinleck Talbot | 14:00:3014:00 |
| 2017-02-18 14:15:29February 18, 2017 | Auchinleck Talbot | 4 - 0 | Luncarty | 14:15:2914:15 |
| 2017-02-11 14:00:34February 11, 2017 | Auchinleck Talbot | 1 - 0 | Whitletts Victoria | 14:00:3414:00 |
| 2017-02-04 13:45:53February 4, 2017 | Auchinleck Talbot | 2 - 1 | Largs Thistle | 13:45:5313:45 |
| 2017-01-21 13:45:46January 21, 2017 | Beith Juniors | 0 - 1 | Auchinleck Talbot | 13:45:4613:45 |
| 2017-01-07 13:45:35January 7, 2017 | Pollok | 2 - 0 | Auchinleck Talbot | 13:45:3513:45 |
| 2016-12-17 13:45:39December 17, 2016 | Troon | 0 - 3 | Auchinleck Talbot | 13:45:3913:45 |
| 2016-12-10 13:45:51December 10, 2016 | Auchinleck Talbot | 0 - 1 | Kilbirnie Ladeside | 13:45:5113:45 |
| 2016-11-26 13:45:49November 26, 2016 | Auchinleck Talbot | 4 - 0 | Pollok | 13:45:4913:45 |
| 2016-11-19 14:00:22November 19, 2016 | Pollok | 1 - 1 | Auchinleck Talbot | 14:00:2214:00 |
| 2016-11-12 14:00:41November 12, 2016 | Auchinleck Talbot | 1 - 1 | Beith Juniors | 14:00:4114:00 |
| 2016-11-05 14:00:27November 5, 2016 | Kilwinning Rangers | 0 - 1 | Auchinleck Talbot | 14:00:2714:00 |
| 2016-10-29 14:00:24October 29, 2016 | Auchinleck Talbot | 2 - 0 | | 14:00:2414:00 |
| 2016-10-22 14:00:23October 22, 2016 | Annbank United | 1 - 2 | Auchinleck Talbot | 14:00:2314:00 |
| 2016-10-15 14:00:00October 15, 2016 | Cambuslang Rangers | 0 - 3 | Auchinleck Talbot | 14:00:0014:00 |
| 2016-10-09 14:00:03October 9, 2016 | Auchinleck Talbot | 0 - 1 | Kilbirnie Ladeside | 14:00:0314:00 |
| 2016-10-01 14:00:18October 1, 2016 | Auchinleck Talbot | 3 - 0 | Cumnock | 14:00:1814:00 |
| 2016-09-24 14:00:36September 24, 2016 | Auchinleck Talbot | 1 - 0 | Arthurlie | 14:00:3614:00 |
| 2016-08-15 19:00:07August 15, 2016 | Auchinleck Talbot | 1 - 1 | Cumnock | 19:00:0719:00 |
| 2016-08-13 15:00:22August 13, 2016 | Wigton & Bladnoch | 0 - 4 | Auchinleck Talbot | 15:00:2215:00 |
| 2016-08-10 19:00:13August 10, 2016 | Glenafton Athletic | 1 - 1 | Auchinleck Talbot | 19:00:1319:00 |
| 2016-08-06 14:00:30August 6, 2016 | Muirkirk Juniors | 1 - 4 | Auchinleck Talbot | 14:00:3014:00 |
| 2016-06-11 14:00:41June 11, 2016 | Auchinleck Talbot | 5 - 2 | Renfrew Juniors | 14:00:4114:00 |
| 2016-06-06 19:30:36June 6, 2016 | Cumnock | 1 - 2 | Auchinleck Talbot | 19:30:3619:30 |
| 2016-06-04 14:00:03June 4, 2016 | Beith Juniors | 1 - 1 | Auchinleck Talbot | 14:00:0314:00 |
| 2016-05-25 19:30:55May 25, 2016 | Auchinleck Talbot | 0 - 1 | | 19:30:5519:30 |
| 2016-05-20 19:15:39May 20, 2016 | Auchinleck Talbot | 2 - 0 | | 19:15:3919:15 |
| 2016-05-16 19:15:56May 16, 2016 | Beith Juniors | 2 - 2 | Auchinleck Talbot | 19:15:5619:15 |
| 2016-05-14 14:00:18May 14, 2016 | Auchinleck Talbot | 4 - 1 | Pollok | 14:00:1814:00 |
| 2016-05-09 18:45:04May 9, 2016 | Auchinleck Talbot | 2 - 0 | Glenafton Athletic | 18:45:0418:45 |
| 2016-05-07 14:00:13May 7, 2016 | Cumnock | 2 - 3 | Auchinleck Talbot | 14:00:1314:00 |
| 2016-05-04 19:00:07May 4, 2016 | Troon | 2 - 1 | Auchinleck Talbot | 19:00:0719:00 |
| 2016-05-02 18:45:26May 2, 2016 | Auchinleck Talbot | 1 - 0 | Beith Juniors | 18:45:2618:45 |
| 2016-04-30 14:00:51April 30, 2016 | Auchinleck Talbot | 1 - 1 | Clydebank | 14:00:5114:00 |
| 2016-04-27 18:45:05April 27, 2016 | Kilbirnie Ladeside | 2 - 1 | Auchinleck Talbot | 18:45:0518:45 |
| 2016-04-25 18:45:46April 25, 2016 | Glenafton Athletic | 0 - 2 | Auchinleck Talbot | 18:45:4618:45 |
| 2016-04-23 14:00:29April 23, 2016 | Auchinleck Talbot | 5 - 0 | Cambuslang Rangers | 14:00:2914:00 |
| 2016-04-19 18:45:17April 19, 2016 | Auchinleck Talbot | 8 - 0 | Dalry Thistle | 18:45:1718:45 |
| 2016-04-16 14:00:16April 16, 2016 | Auchinleck Talbot | 2 - 2 | Arthurlie | 14:00:1614:00 |
| 2016-04-09 14:00:30April 9, 2016 | Petershill | 0 - 6 | Auchinleck Talbot | 14:00:3014:00 |
| 2016-04-02 14:00:38April 2, 2016 | Darvel | 1 - 4 | Auchinleck Talbot | 14:00:3814:00 |
| 2016-03-19 14:00:01March 19, 2016 | Auchinleck Talbot | 3 - 0 | Irvine Meadow | 14:00:0114:00 |
| 2016-03-12 14:30:14March 12, 2016 | Auchinleck Talbot | 2 - 0 | | 14:30:1414:30 |
| 2016-03-05 14:00:07March 5, 2016 | Shettleston | 0 - 0 | Auchinleck Talbot | 14:00:0714:00 |
| 2016-02-27 13:00:18February 27, 2016 | Auchinleck Talbot | 2 - 0 | Kirkintilloch Rob Roy | 13:00:1813:00 |
| 2016-02-20 14:15:01February 20, 2016 | Carnoustie Panmure | 2 - 3 | Auchinleck Talbot | 14:15:0114:15 |
| 2016-01-30 13:45:30January 30, 2016 | Pollok | 1 - 0 | Auchinleck Talbot | 13:45:3013:45 |
| 2016-01-23 13:45:16January 23, 2016 | Auchinleck Talbot | 3 - 0 | Cumnock | 13:45:1613:45 |
| 2016-01-03 13:45:53January 3, 2016 | Auchinleck Talbot | 0 - 1 | Kilbirnie Ladeside | 13:45:5313:45 |
| 2015-12-20 19:00:10December 20, 2015 | Auchinleck Talbot | 2 - 0 | Troon | 19:00:1019:00 |
| 2015-12-12 13:45:59December 12, 2015 | Irvine Meadow | 0 - 1 | Auchinleck Talbot | 13:45:5913:45 |
| 2015-11-28 13:45:46November 28, 2015 | Kinnoul | 2 - 8 | Auchinleck Talbot | 13:45:4613:45 |
| 2015-11-14 14:00:47November 14, 2015 | Greenock Juniors FC | 0 - 4 | Auchinleck Talbot | 14:00:4714:00 |
| 2015-11-07 14:00:39November 7, 2015 | Auchinleck Talbot | 4 - 3 | | 14:00:3914:00 |
| 2015-10-31 14:00:14October 31, 2015 | Tranent | 0 - 2 | Auchinleck Talbot | 14:00:1414:00 |
| 2015-10-24 15:00:13October 24, 2015 | Cumbernauld Colts | 2 - 0 | Auchinleck Talbot | 15:00:1315:00 |
| 2015-10-17 14:00:13October 17, 2015 | Arthurlie | 0 - 2 | Auchinleck Talbot | 14:00:1314:00 |
| 2015-10-10 14:00:15October 10, 2015 | Petershill | 0 - 1 | Auchinleck Talbot | 14:00:1514:00 |
| 2015-10-03 15:00:26October 3, 2015 | BSC Glasgow | 0 - 5 | Auchinleck Talbot | 15:00:2615:00 |
| 2015-09-26 15:00:31September 26, 2015 | BSC Glasgow | 2 - 2 | Auchinleck Talbot | 15:00:3115:00 |
| 2015-09-19 14:00:45September 19, 2015 | Kirkintilloch Rob Roy | 2 - 0 | Auchinleck Talbot | 14:00:4514:00 |
| 2015-09-12 14:00:22September 12, 2015 | Auchinleck Talbot | 4 - 1 | Petershill | 14:00:2214:00 |
| 2015-09-05 15:00:59September 5, 2015 | Hermes | 0 - 4 | Auchinleck Talbot | 15:00:5915:00 |
| 2015-08-29 14:00:05August 29, 2015 | Auchinleck Talbot | 2 - 0 | Shettleston | 14:00:0514:00 |
| 2015-08-26 18:45:05August 26, 2015 | Auchinleck Talbot | 1 - 2 | Maybole Juniors | 18:45:0518:45 |
| 2015-08-22 14:00:16August 22, 2015 | Lugar Boswell | 0 - 3 | Auchinleck Talbot | 14:00:1614:00 |
| 2015-08-15 14:00:40August 15, 2015 | Auchinleck Talbot | 2 - 2 | Glenafton Athletic | 14:00:4014:00 |
| 2015-08-08 14:00:25August 8, 2015 | Cumnock | 1 - 3 | Auchinleck Talbot | 14:00:2514:00 |