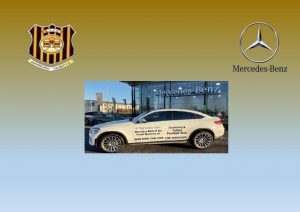 FLOODLIGHT PROJECT MERCEDES BENZ SUV DRAW WINNER
CATHERINE NICOL – SCOTTISH AMBULANCE SERVICE
WINS THE FOLLOWING PRIZES…..
Mercedes S.U.V. Fully Insured, (Courtesy Mercedes Benz Ayr)
£100 Cash, (Courtesy A.T.F.C.)
£50 RAD Hotel Group Voucher, (Courtesy Discount Tyres & Components, Auchinleck)
FLOODLIGHT SUV WINNERS DRAW
The held over draw which includes a top of the range Mercedes SUV for the weekend will take place on the 21st August at the Montrose Roselea match. The draw which has been held over due to the Covid epidemic raised a substantial amount for the floodlight project.
SUMMER DRAW 2021
Auchinleck Talbot summer draw 2021 winners
Draw was made in the Talbot club Sunday 1st of August at 3pm & was drawn by members of the supporters club.
1st prize – match hospitality for two
Jean Robertson 49
2nd prize – £100
Norrie Lyle MBC
3rd prize – season ticket for ATFC home games
Alex Gemmell
4th prize – deluxe bottle of whisky
Alex Gemmell
5th prize – new home replica top
John Graham 1 Beechwood Ave
6th prize – two bottles of spirits
Mrs Stirling Main street Auchinleck
7th prize – case of beer
Tam Jackson MBC
8th prize – £25
Ian Mitchell (C/O Derek Mitchell)
9th prize – £25
Mugs (C/O Andy Mathieson)
10th prize – Talbot polo shirt
Kim McGhee
11th prize – £10
Jack Adams
12th prize – £10
Scott Smith
Can all agents who sold the tickets or the winners above contact Morton jnr 07972 719 553 to arrange to collect prizes.
Auchinleck Talbot would like to thank all who participated with sale of tickets and all folks who purchased tickets.
Finally well done to all winners.
TALBOT WALL
The TALBOT WALL in the newly refurbished Social Club has reached full capacity. Fans will have their name or the names of loved ones inscribed on Club Coloured Black & Gold Bricks, on a one name one brick basis costing £28 inclusive of a certificate of inscription.
Contributor names have been forwarded to the manufacturer for the Boards production.
All proceeds will go towards our Development Fund that supports the various ongoing improvements at Beechwood Park.
Contact Henry Dumigan on 07929525494 or [email protected] for enquiries.
FAO MEMBERS – AUCHINLECK TALBOT FC SUPPORTERS SOCIAL CLUB
We have a number of rules in place to ensure the safety of members and staff.
Club will be for Members only….
We will be running a two year membership 2020-2021
◾If you purchased a membership in 2020 that will cover you for 2021.
◾If you did not get a membership in 2020 and were a member in 2019 you will need to purchase a membership for 2021.
Members from 2019 not renewed last year, will have until 27th June to renew your membership.
From 3rd of July we will accept new members: Price £6.00
Social distancing & government guidelines will be in place please follow the guidelines and respect the staff at all times. Face masks must be worn when entering, leaving the premises and using the toilets….
On arrival at the club you are required to sign in…..this is mandatory…….
◾Full Name ◾Address ◾Contact number
Sanitiser stations will be positioned at the inside door, please use on arrival, along with hand sanitizer on the tables.
Please follow the signage in place and follow directions….
Both bars will be open and there will be a reduced seating capacity in place, no standing at the bar allowed…          Table service only….please be patient….
There will be regular cleaning of the toilets and the bar, again please be patient when looking to get served; it will take longer than normal…
Anyone not following the government guidelines will be asked to leave the premises.
Remember it is not normal and it is your club please respect this and follow the guidance …
We can get back to normal but we all have a part to play…
We look forward to seeing you all in the coming weeks …our thoughts go out to all the families who have lost loved ones and will not be with us when we open up again….EPPP