v

Report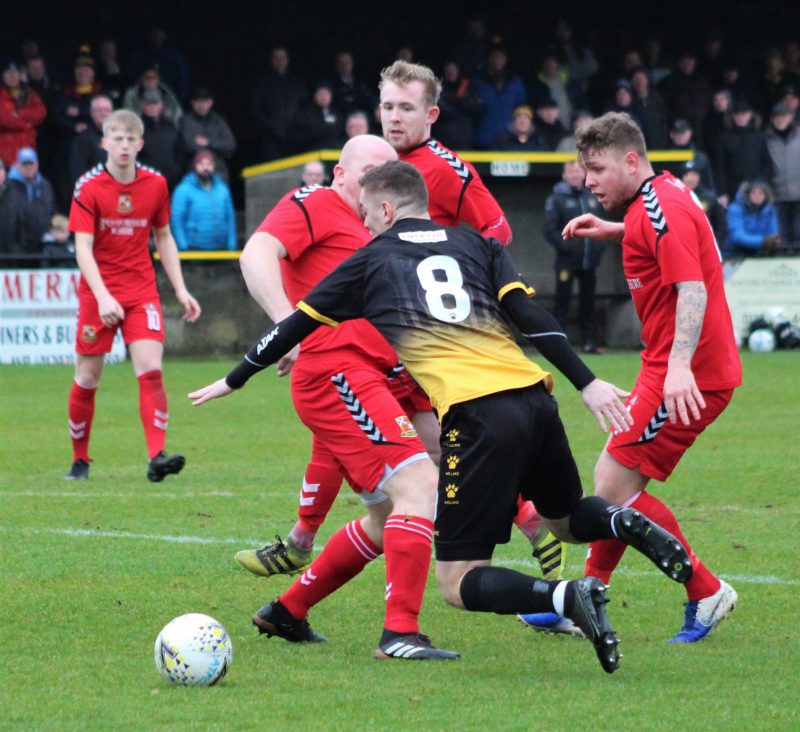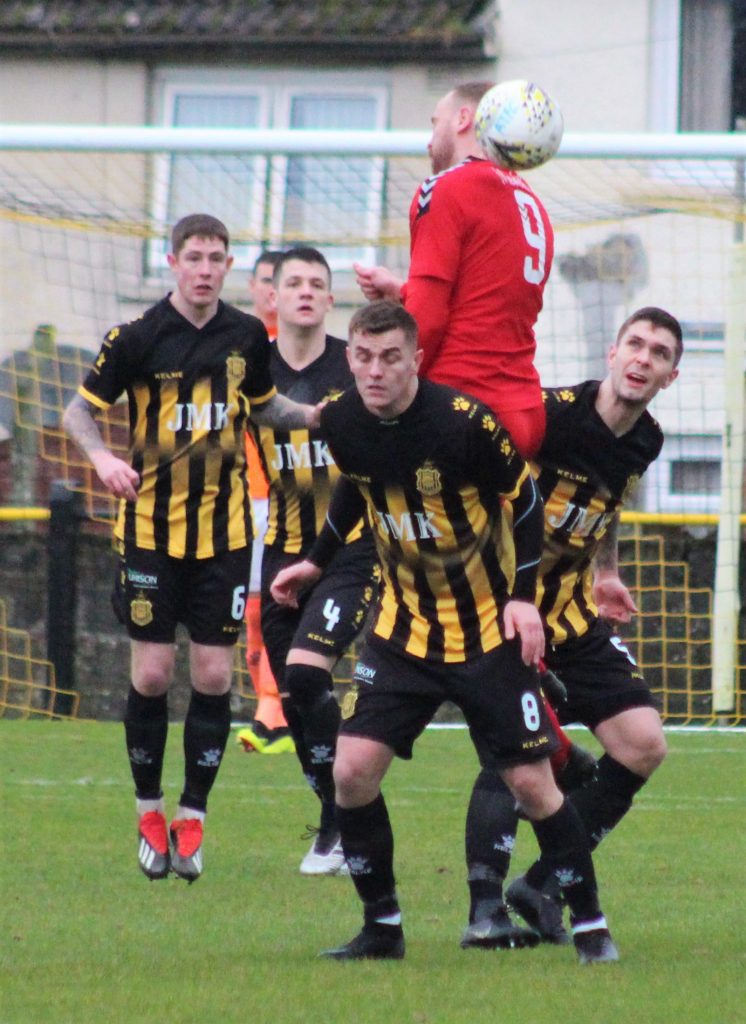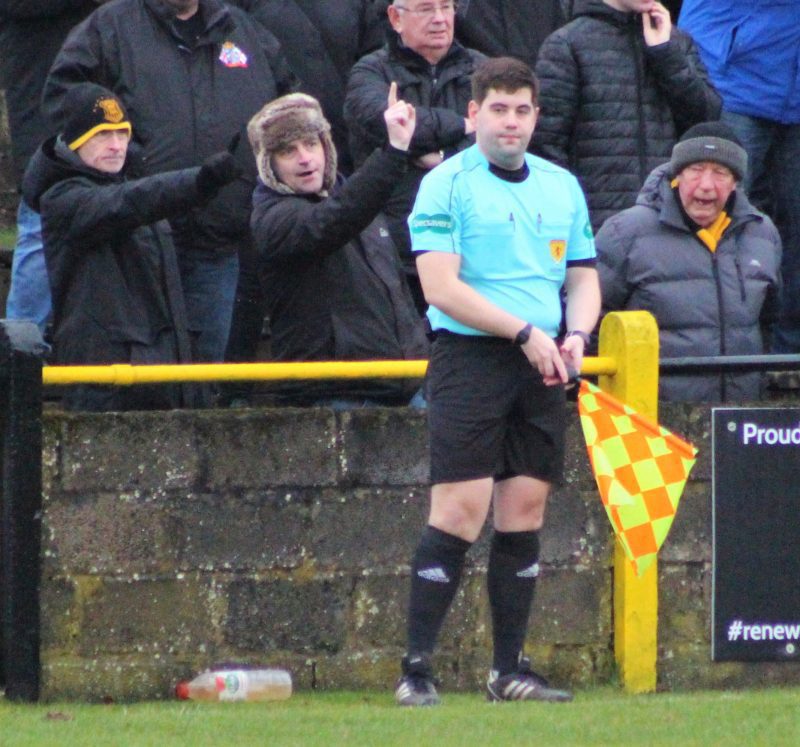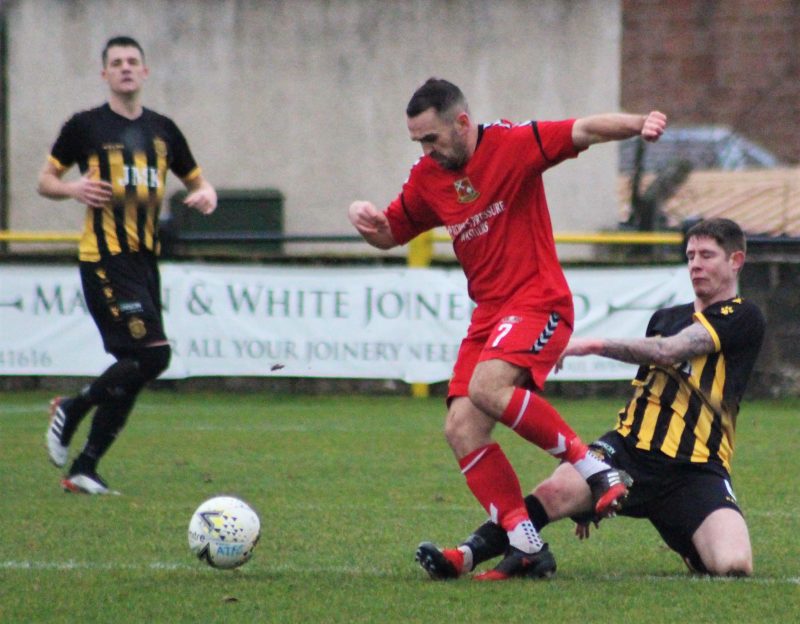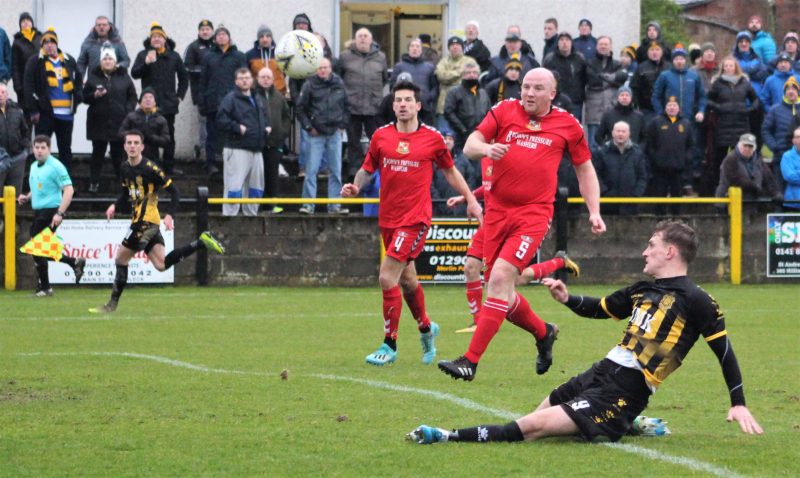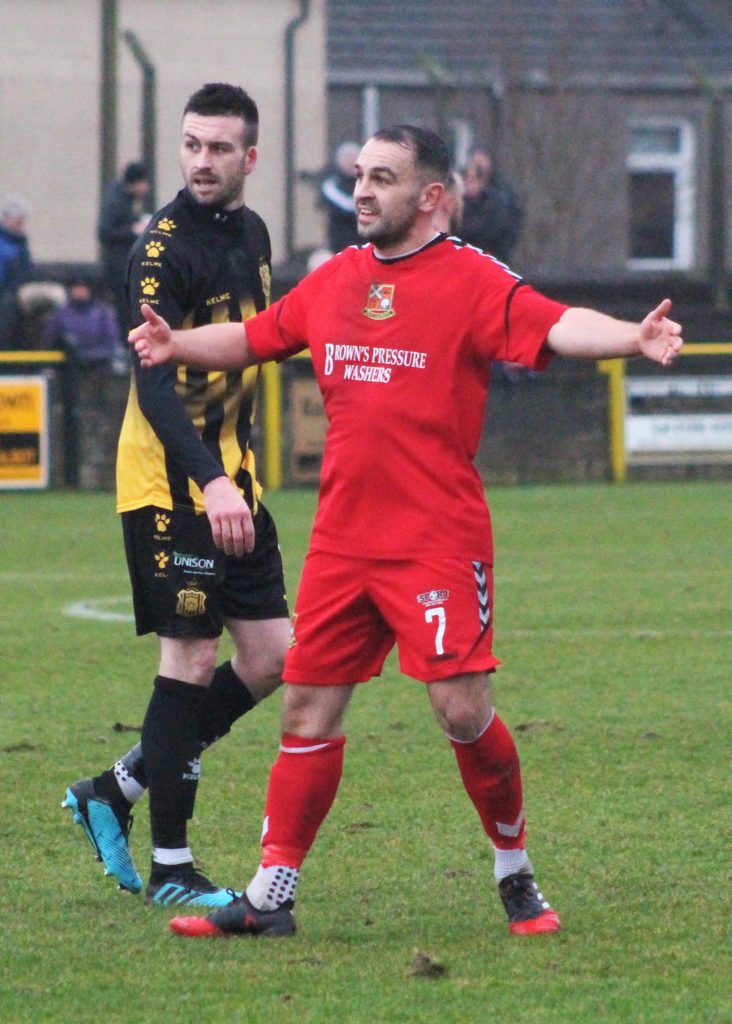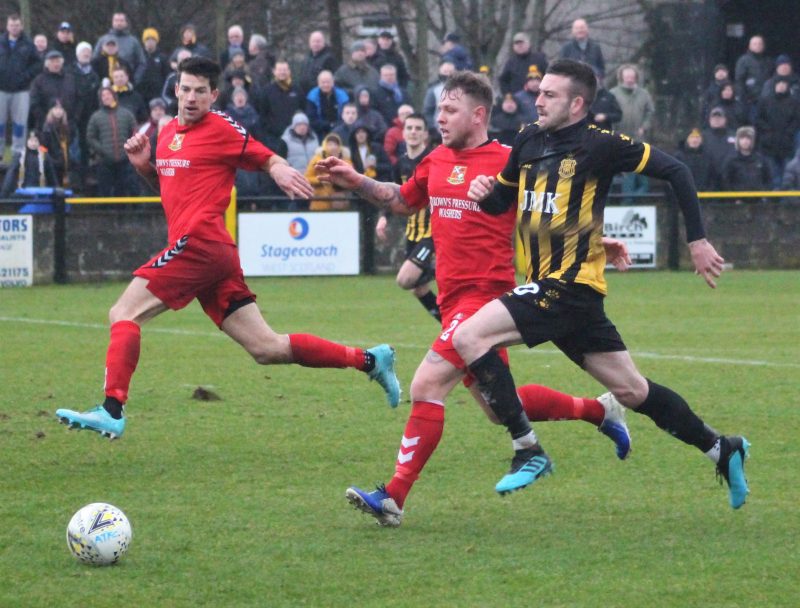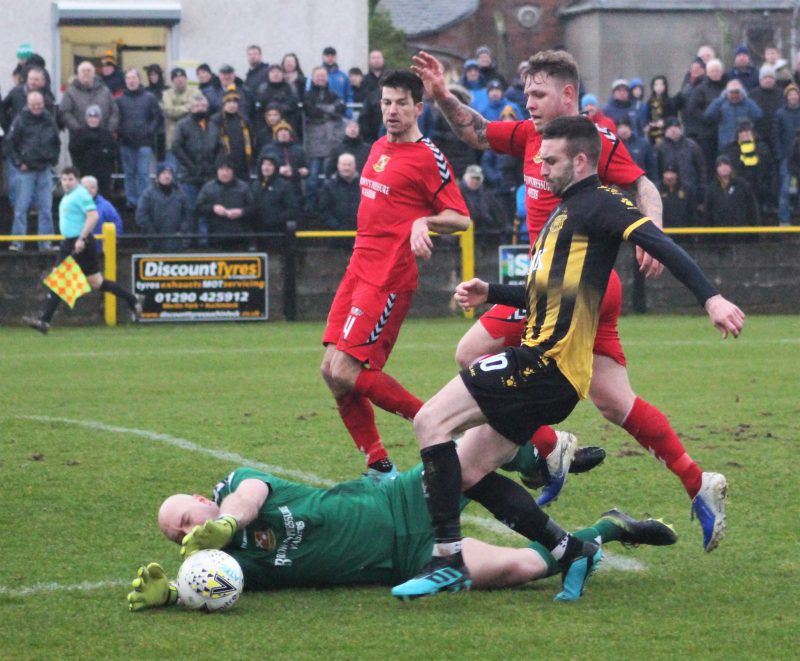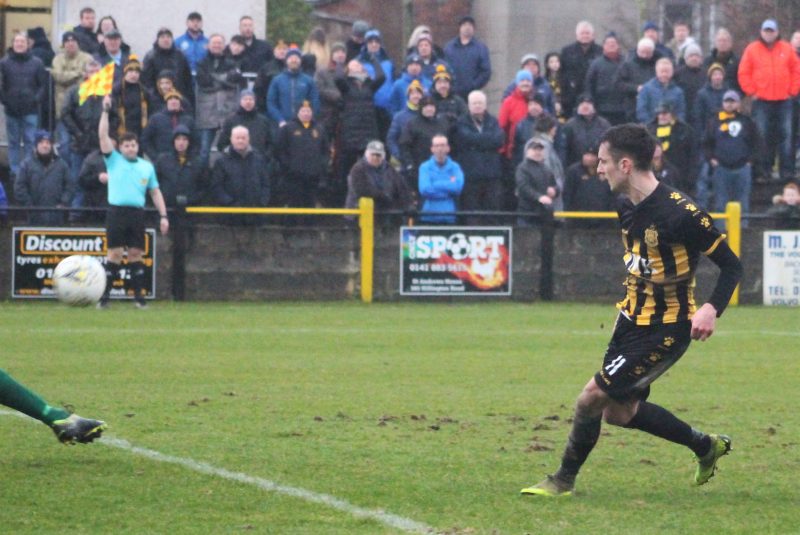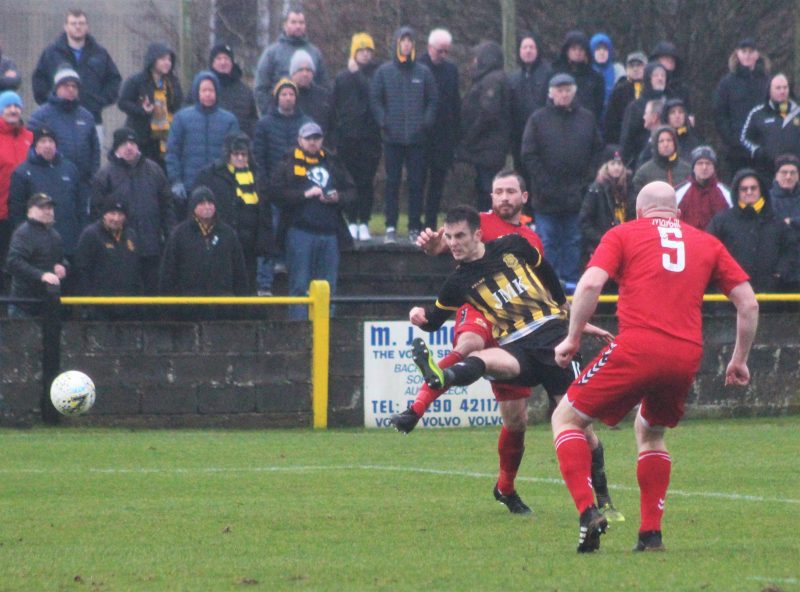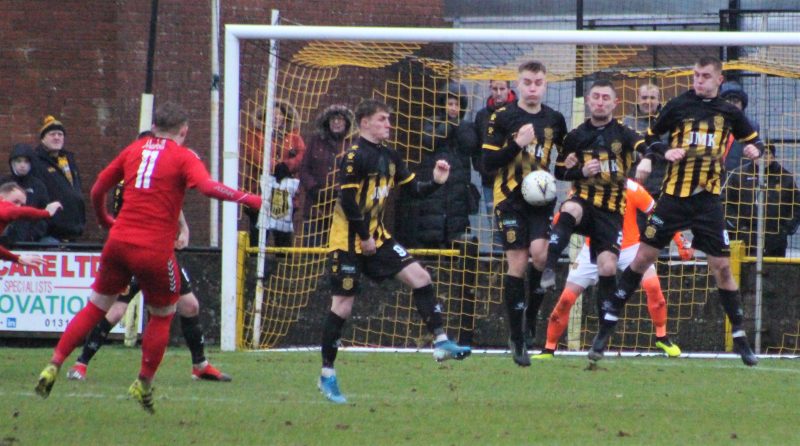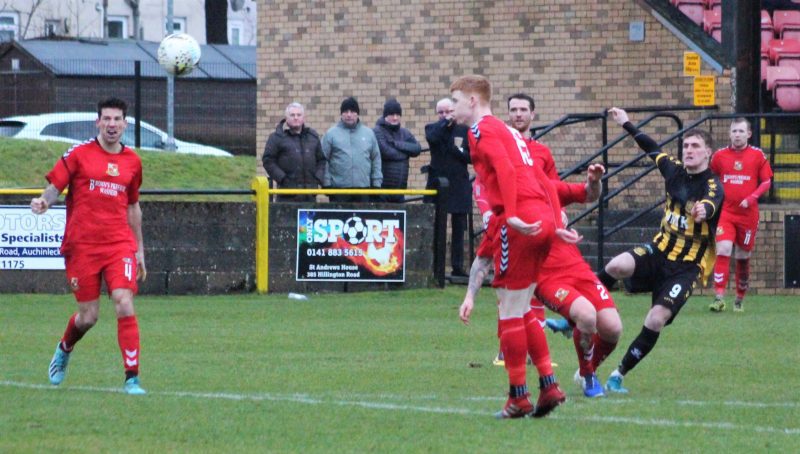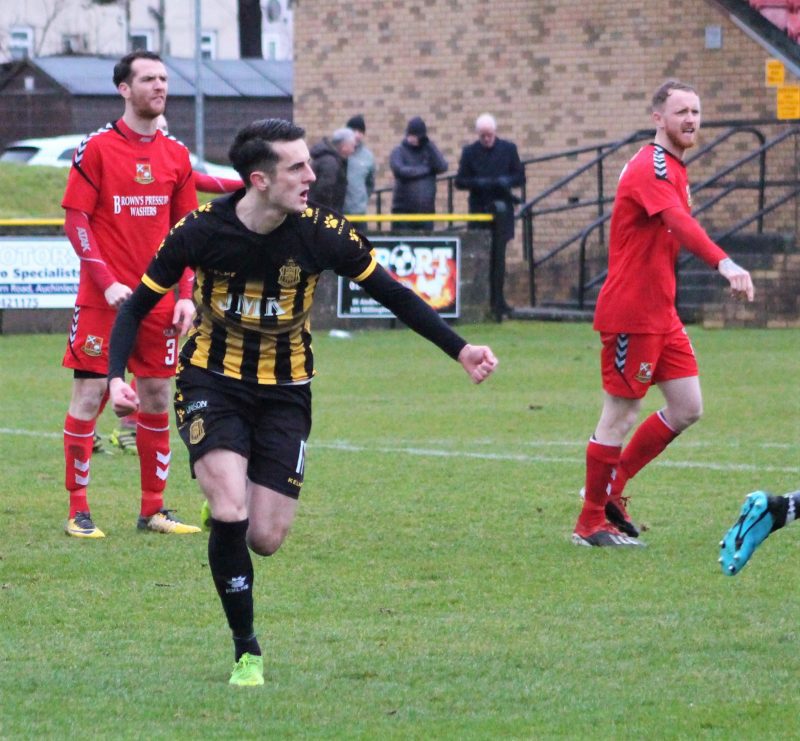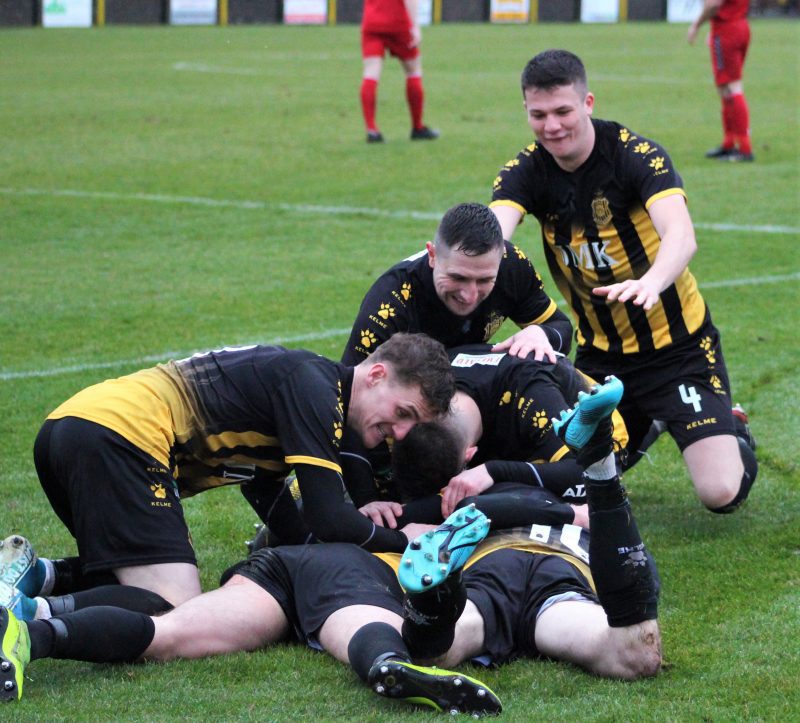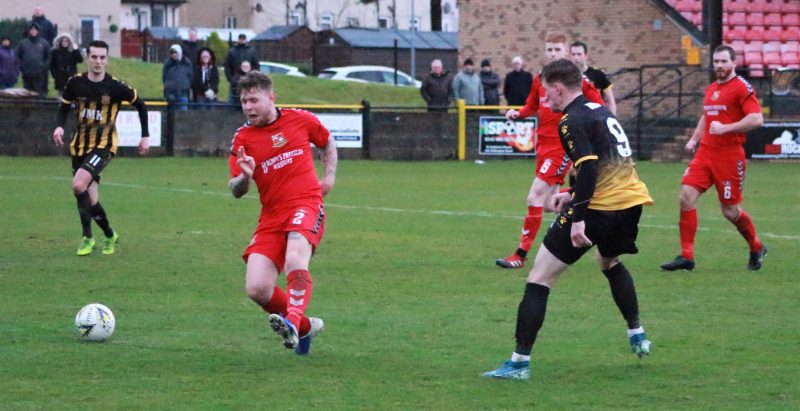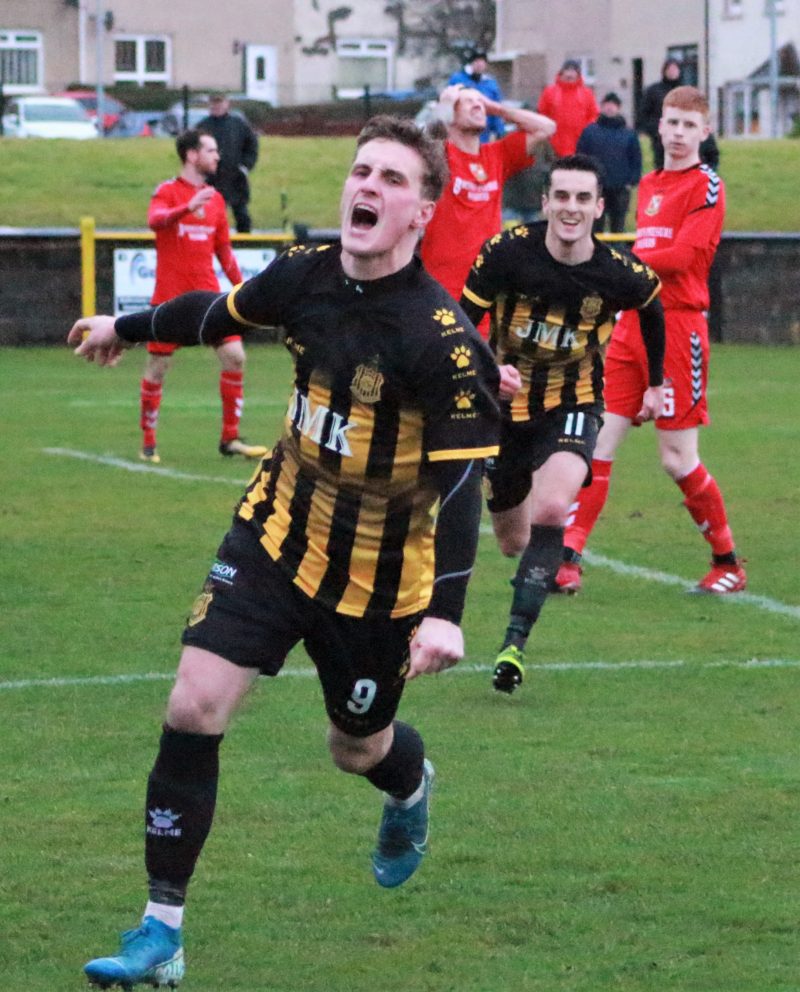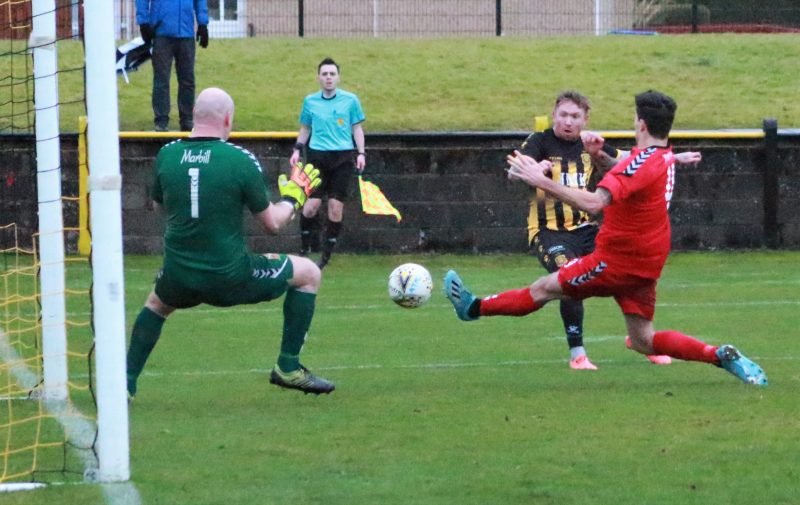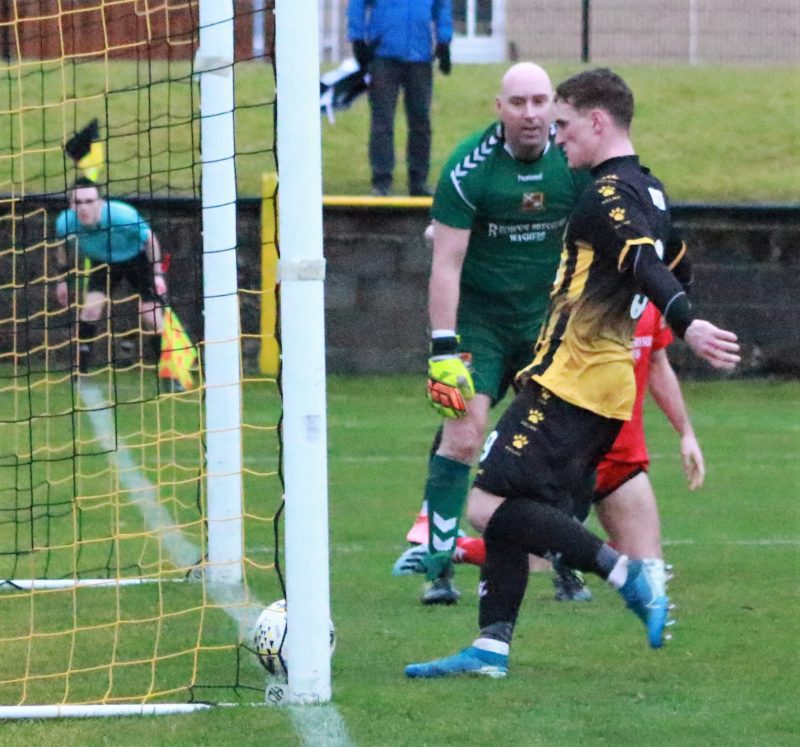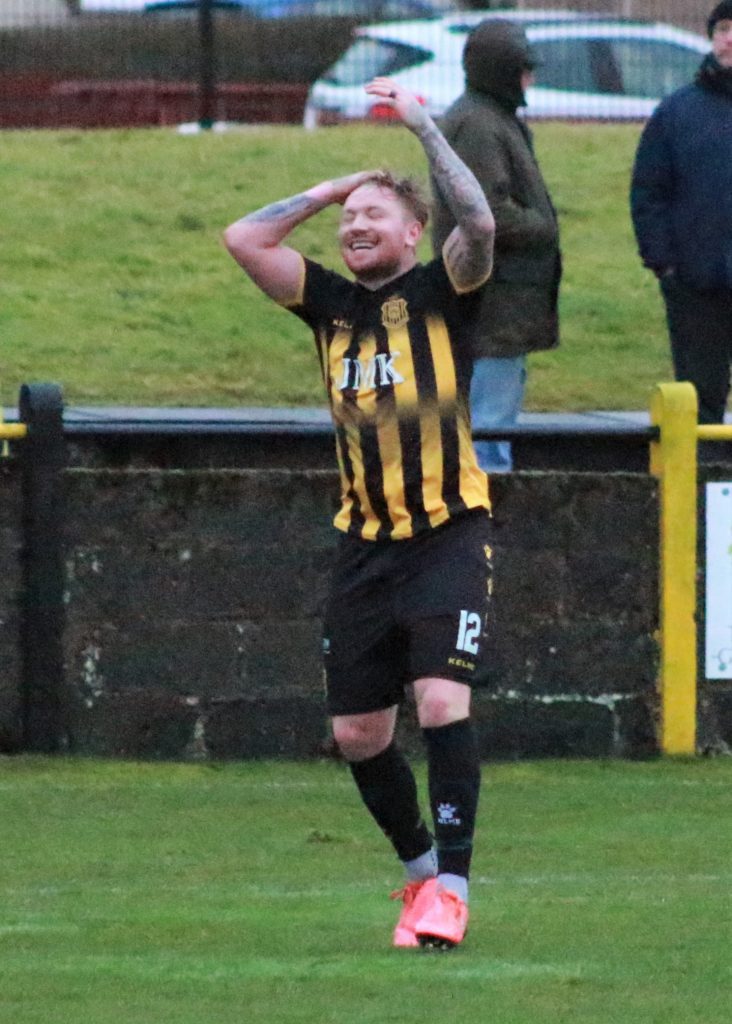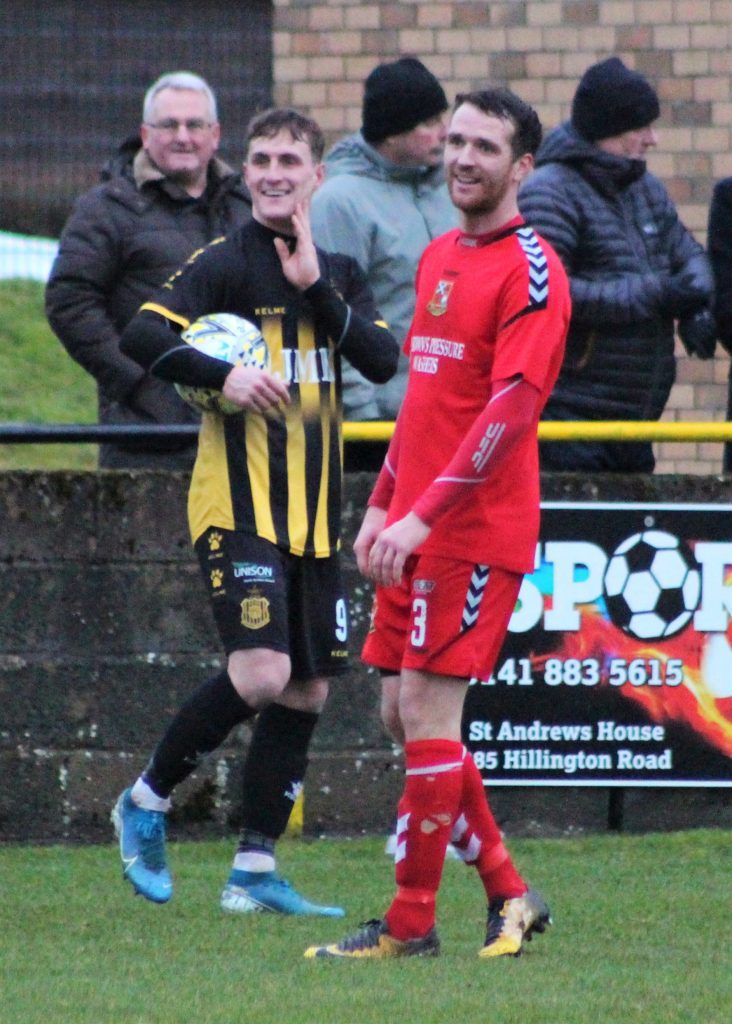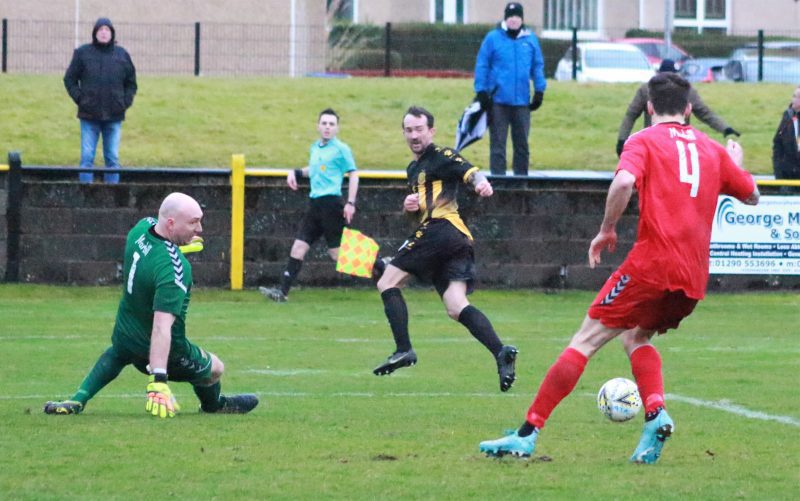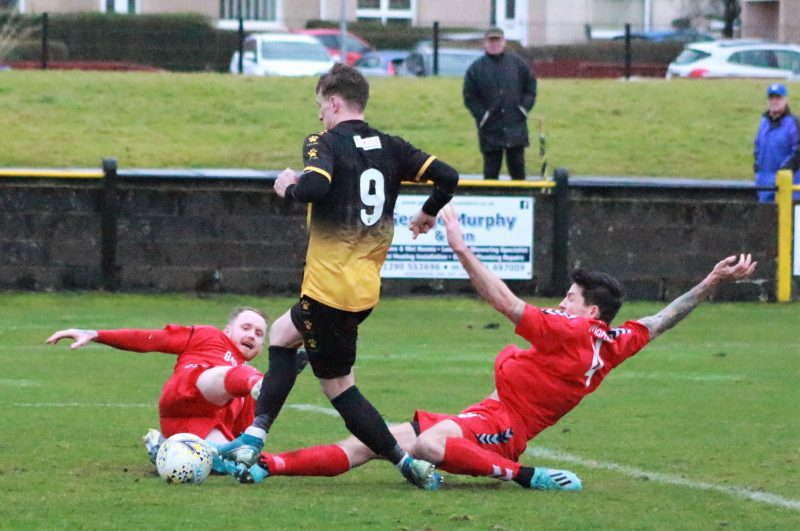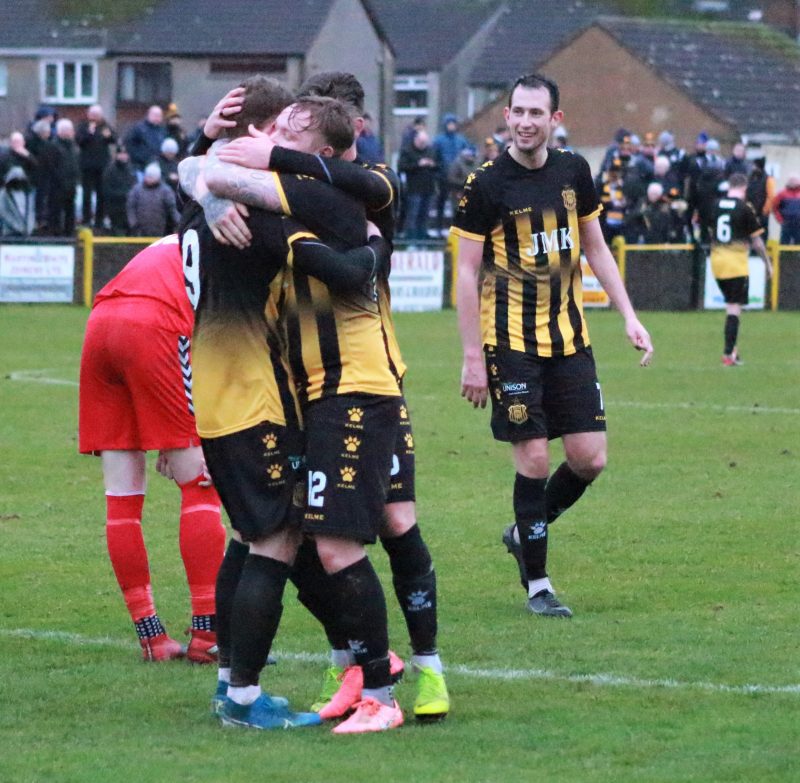 PHOTOGRAPHS BY PAUL FLYNN.
MURRAYS MATCH REPORT
A 2nd half surge saw Talbot race through the gears & put Beith to the sword as the Bot started the new year in style with a 4-0 win.
The first purposeful attack of the match saw Stephen Wilson play a one-two with Boylan outside the area & attempt to run onto the return pass. He tumbled over in the area but the ref waved away his appeal.
The opening spell was highly competitive but neither side had anything to show for it other than an exchange of corners.
It looked like Graham Wilson had got in behind Beith's defence in the 14th minute when he raced onto Samson's pass but a marginal offside call went against him.
The Bot threatened Beith's goal in the 19th minute. Sheridan was penalised for barging over Graham Wilson 35 yards out & Stephen Wilson swept in a good free kick to the back past. Beith couldn't properly clear it & it came to Lyle on the touchline. Graham Wilson met his cross & looped a header beyond the far post where Samson dinked it back into play before it was bundled behind for a corner.
In the 22nd minute both sides came close in quick succession. Firstly, Christie slid a pass through toward McKenzie that forced Leishman off his line to smother at the striker's feet. Leishman then launched a counterattack when he hurled the ball out to the right to find Samson racing away. He sped down the touchline before firing a cross beyond Sheridan that Graham Wilson met on the stretch 6 yards out but he couldn't keep his shot down.
Two minutes later Talbot had a lucky escape. Ramsay squared the ball to Wilson just outside the penalty area and his shot was travelling on target before taking a major deflection & speeding just wide of the left post.
The first booking of the afternoon came in the 29th minute when Graham Wilson cut inside Wilson who obstructed him resulting in a caution for Beith's midfielder & a Bot freekick 20 yards out that Talbot failed to make the most of.
Graham Wilson came close to breaking the deadlock when he met Aiden Wilson's cross but glanced his header wide of the left post and a minute later he was inches from connecting with Boylan's low ball in from the left at the near post.
Talbot's next effort came in the 35th minute. Beith failed to deal with Samson's long throw & the ball broke to Boylan 20 yards out & he stroked a shot narrowly past Grindlay's right post.
Boylan was soon involved again. He raced onto a ball over the top & burst into the area only to take a heavy touch & was forced wide by Grindlay. He retrieved the ball at the byline and cut back in field before trying a shot from a tight angle that was blocked.
With 40 mins gone Boylan had his name taken for a late challenge on Ramsay.
In the closing minutes of the half the visitors were forced into a change when Sheridan limped off to be replaced by McMahon and that was it for a keenly contested 1st half.
The 2nd half was only 6 minutes old when Talbot made the crucial breakthrough. Stephen Wilson ploughed past a couple of weak challenges down the left. It fell to Boylan inside the area & he pulled it back & across to KEIR SAMSON who stroked it past Grindlay from 15 yards.
The goal galvanised Talbot who began to push Beith back in search of a second.
Beith made a 2nd change, in the 59th minute, when McLean replaced McKenzie.
Talbot made their first change in the 64th minute with Shankland coming on for Boylan and Beith soon completed their changes with Prior replacing Ramsay.
The next goal was going to be pivotal & it went Talbot's way in the 71st minute. McCracken was caught as he burst forward resulting in a free kick 30 yards out. With everyone anticipating a direct shot, Shankland instead slid a pass wide of the wall to GRAHAM WILSON & he steered a left foot shot across Grindlay to make it 2-0.
With quarter of an hour remaining Talbot nearly added a third. Aiden Wilson carried out of defence before finding Graham Wilson in the centre of the pitch. He hooked it over his shoulder to release Samson who outpaced the defence but was unable to beat Grindlay who raced off his line to make the block.
Tucker now made a further change with Healy on for Samson & the switch paid off as Talbot extended their lead in the 76th minute.
Shankland lifted a cross over from the right that was retrieved on the far side by Healy. He whipped it back over where Shankland met it on the volley & his shot back across goal squirmed past Grindlay & GRAHAM WILSON followed up to rifle it home from close range.
With 10 minutes remaining Talbot made their final change when Lyle was forced off injured to be replaced by White.
Talbot were sitting comfortably & looking to add to their tally which they nearly did in the 82nd minute. Docherty swept the legs from Shankland resulting in a free kick out on the right. Shankland delivered the free kick across the face of goal where Graham Wilson just failed to connect with his head.
Five minutes from time & Talbot cut open the Beith defence again. Shankland gathered on the left & played a great ball across to find White free on the right of the area; however he didn't catch his strike cleanly & McGlinchey cleared from the goalmouth.
The goal wasn't long delayed though & a minute later Talbot completed the scoring. Shankland cut in off the left & swept over a cross. Two Beith defenders went for it & only succeeded in getting each other's way as they knocked it straight to GRAHAM WILSON who tucked it home from close range to complete Beith's misery & his own hat-trick.
Another excellent home win for the Bot who are back on cup duty next Saturday as they travel through to Kilwinning to face the Buffs in the West.
Auchinleck Talbot – Leishman, Lyle, Aiden Wilson, McPherson, McCracken, Armstrong, Hyslop, Stephen Wilson, Graham Wilson, Boylan, Samson
Subs – Shankland, McDowall, Healy, Pope, White
Beith Juniors – Grindlay, McGlinchey, Milliken, Docherty, Sheridan, Wilson, Christie, Frize, McIlroy, McKenzie, Ramsay
Subs – Noble, McLean, McMahon, Prior, Zaliska
Details
| Date | Time | Season |
| --- | --- | --- |
| January 4, 2020 | 13:45 | 2019/20 |
Results
| | | | |
| --- | --- | --- | --- |
| Auchinleck Talbot | 0 | 4 | 4 |
| Beith Juniors | 0 | 0 | 0 |
Beith Juniors
| Position | Goals | Assists | YC | RC |
| --- | --- | --- | --- | --- |
| | 0 | 0 | 0 | 0 |