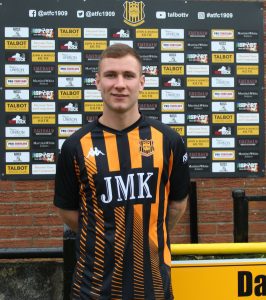 Position

Midfielder

Past Teams

Ardrossan Winton Rovers, Glenafton Athletic, Irvine Meadow
SPONSORS: Stephen Ferroll, Loons Supporters Club.
BIO: Mick had four years in the Ayr United youth system between 2013 and 2017 with a loan to Glenafton Athletic in between. He joined Kilwinning Rangers in 2017 spending two seasons at the "Ger's" before joining Ardrossan Winton Rovers. In 2019 he was with Hurlford United for a couple of season's before a short Irvine Meadow spell was followed by his March signing at Talbot.
Indigo Comms WOSL Cup
| Season | Team | Appearances | Goals | Assists | YC | RC | Win Ratio | Draw Ratio | Loss Ratio |
| --- | --- | --- | --- | --- | --- | --- | --- | --- | --- |
| 2021/22 | Auchinleck Talbot | 0 | 0 | 0 | 0 | 0 | 0 | 0 | 0 |
| 2022/23 | Auchinleck Talbot | 6 | 1 | 2 | 0 | 0 | 66.67 | 33.33 | 0.00 |
| 2023/24 | Auchinleck Talbot | 0 | 0 | 0 | 0 | 0 | 0 | 0 | 0 |
| Total | - | 6 | 1 | 2 | 0 | 0 | 66.67 | 33.33 | 0 |
SCOTTISH CUP
| Season | Team | Appearances | Goals | Assists | YC | RC | Win Ratio | Draw Ratio | Loss Ratio |
| --- | --- | --- | --- | --- | --- | --- | --- | --- | --- |
| 2021/22 | Auchinleck Talbot | 0 | 0 | 0 | 0 | 0 | 0 | 0 | 0 |
| 2022/23 | Auchinleck Talbot | 4 | 0 | 3 | 0 | 0 | 50.00 | 25.00 | 25.00 |
| 2023/24 | Auchinleck Talbot | 0 | 0 | 0 | 0 | 0 | 0 | 0 | 0 |
| Total | - | 4 | 0 | 3 | 0 | 0 | 50 | 25 | 25 |
Clydebuilt SCOTTISH JUNIOR CUP
| Season | Team | Appearances | Goals | Assists | YC | RC | Win Ratio | Draw Ratio | Loss Ratio |
| --- | --- | --- | --- | --- | --- | --- | --- | --- | --- |
| 2021/22 | Auchinleck Talbot | 0 | 0 | 0 | 0 | 0 | 0 | 0 | 0 |
| 2022/23 | Auchinleck Talbot | 3 | 0 | 0 | 1 | 0 | 66.67 | 33.33 | 0.00 |
| 2023/24 | Auchinleck Talbot | 0 | 0 | 0 | 0 | 0 | 0 | 0 | 0 |
| Total | - | 3 | 0 | 0 | 1 | 0 | 66.67 | 33.33 | 0 |
SOUTH REGION CHALLENGE CUP
| Season | Team | Appearances | Goals | Assists | YC | RC | Win Ratio | Draw Ratio | Loss Ratio |
| --- | --- | --- | --- | --- | --- | --- | --- | --- | --- |
| 2021/22 | Auchinleck Talbot | 0 | 0 | 0 | 0 | 0 | 0 | 0 | 0 |
| 2022/23 | Auchinleck Talbot | 5 | 0 | 2 | 0 | 0 | 40.00 | 0.00 | 0.00 |
| 2023/24 | Auchinleck Talbot | 0 | 0 | 0 | 0 | 0 | 0 | 0 | 0 |
| Total | - | 5 | 0 | 2 | 0 | 0 | 40 | 0 | 0 |
PDM BUILDBASE WOSL PREMIER
| Season | Team | Appearances | Goals | Assists | YC | RC | Win Ratio | Draw Ratio | Loss Ratio |
| --- | --- | --- | --- | --- | --- | --- | --- | --- | --- |
| 2021/22 | Auchinleck Talbot | 9 | 0 | 3 | 0 | 0 | 44.44 | 44.44 | 11.11 |
| 2022/23 | Auchinleck Talbot | 28 | 5 | 5 | 3 | 0 | 50.00 | 14.29 | 17.86 |
| 2023/24 | Auchinleck Talbot | 0 | 0 | 0 | 0 | 0 | 0 | 0 | 0 |
| Total | - | 37 | 5 | 8 | 3 | 0 | 94.44 | 58.73 | 28.97 |
Career Total
| Season | Appearances | Goals | Assists | YC | RC | Win Ratio | Draw Ratio | Loss Ratio |
| --- | --- | --- | --- | --- | --- | --- | --- | --- |
| 2021/22 | 9 | 0 | 3 | 0 | 0 | 44.44 | 44.44 | 11.11 |
| 2022/23 | 46 | 6 | 12 | 4 | 0 | 52.17 | 17.39 | 13.04 |
| 2023/24 | 0 | 0 | 0 | 0 | 0 | 0 | 0 | 0 |
| Total | 55 | 6 | 15 | 4 | 0 | 96.61 | 61.83 | 24.15 |
| Date | Home | Results | Away | Time |
| --- | --- | --- | --- | --- |
| 2023-05-13 14:00:11May 13, 2023 | Darvel | 2 - 2 | Auchinleck Talbot | 14:00:1114:00 |
| 2023-05-10 19:30:28May 10, 2023 | Hurlford United | 0 - 2 | Auchinleck Talbot | 19:30:2819:30 |
| 2023-05-06 14:00:14May 6, 2023 | Irvine Meadow | 1 - 3 | Auchinleck Talbot | 14:00:1414:00 |
| 2023-05-03 19:15:53May 3, 2023 | Beith Juniors | 1 - 2 | Auchinleck Talbot | 19:15:5319:15 |
| 2023-05-01 19:30:48May 1, 2023 | Glenafton Athletic | 3 - 1 | Auchinleck Talbot | 19:30:4819:30 |
| 2023-04-28 19:30:48April 28, 2023 | Auchinleck Talbot | 2 - 0 | Clydebank | 19:30:4819:30 |
| 2023-04-25 19:00:41April 25, 2023 | Largs Thistle | 1 - 0 | Auchinleck Talbot | 19:00:4119:00 |
| 2023-04-22 14:00:01April 22, 2023 | Auchinleck Talbot | 2 - 0 | Arthurlie | 14:00:0114:00 |
| 2023-04-19 18:30:19April 19, 2023 | Arthurlie | 0 - 3 | Auchinleck Talbot | 18:30:1918:30 |
| 2023-04-17 19:30:19April 17, 2023 | Auchinleck Talbot | 4 - 0 | Cumnock | 19:30:1919:30 |
| 2023-04-15 14:00:47April 15, 2023 | Clydebank | 2 - 1 | Auchinleck Talbot | 14:00:4714:00 |
| 2023-04-12 19:30:05April 12, 2023 | Auchinleck Talbot | 1 - 1 | Troon | 19:30:0519:30 |
| 2023-04-10 19:30:14April 10, 2023 | Auchinleck Talbot | 1 - 2 | Beith Juniors | 19:30:1419:30 |
| 2023-04-08 14:00:02April 8, 2023 | Auchinleck Talbot | 1 - 1 | Kilwinning Rangers | 14:00:0214:00 |
| 2023-04-03 19:30:14April 3, 2023 | Auchinleck Talbot | 3 - 1 | Kilwinning Rangers | 19:30:1419:30 |
| 2023-04-01 15:00:53April 1, 2023 | Caledonian Braves | 2 - 1 | Auchinleck Talbot | 15:00:5315:00 |
| 2023-03-29 19:30:17March 29, 2023 | Auchinleck Talbot | 1 - 2 | Clydebank | 19:30:1719:30 |
| 2023-03-22 19:30:13March 22, 2023 | Auchinleck Talbot | 2 - 2 | Irvine Meadow | 19:30:1319:30 |
| 2023-03-18 14:00:31March 18, 2023 | Auchinleck Talbot | 3 - 1 | Gartcairn FC | 14:00:3114:00 |
| 2023-03-11 14:00:37March 11, 2023 | Cumnock | 2 - 4 | Auchinleck Talbot | 14:00:3714:00 |
| 2023-03-04 14:00:44March 4, 2023 | Auchinleck Talbot | 1 - 0 | East Killbride FC | 14:00:4414:00 |
| 2023-02-25 14:00:21February 25, 2023 | Auchinleck Talbot | 0 - 0 | Glenafton Athletic | 14:00:2114:00 |
| 2023-02-18 14:00:11February 18, 2023 | Kirkintilloch Rob Roy | 0 - 0 | Auchinleck Talbot | 14:00:1114:00 |
| 2023-02-11 14:00:42February 11, 2023 | Auchinleck Talbot | 2 - 1 | Pollok | 14:00:4214:00 |
| 2023-02-04 14:00:14February 4, 2023 | Auchinleck Talbot | 7 - 0 | Broxburn Athletic | 14:00:1414:00 |
| 2023-01-25 19:30:11January 25, 2023 | Auchinleck Talbot | 3 - 0 | Largs Thistle | 19:30:1119:30 |
| 2023-01-14 14:00:59January 14, 2023 | Auchinleck Talbot | 3 - 1 | Cambuslang Rangers | 14:00:5914:00 |
| 2023-01-07 14:00:46January 7, 2023 | Auchinleck Talbot | 1 - 0 | Johnstone Burgh | 14:00:4614:00 |
| 2022-12-31 13:30:53December 31, 2022 | Auchinleck Talbot | 3 - 1 | Hurlford United | 13:30:5313:30 |
| 2022-12-03 13:45:46December 3, 2022 | Cumnock | 0 - 0 | Auchinleck Talbot | 13:45:4613:45 |
| 2022-11-26 15:00:36November 26, 2022 | Raith Rovers | 3 - 0 | Auchinleck Talbot | 15:00:3615:00 |
| 2022-11-19 14:00:16November 19, 2022 | Auchinleck Talbot | 3 - 0 | Neilston | 14:00:1614:00 |
| 2022-11-12 14:00:45November 12, 2022 | Auchinleck Talbot | 4 - 1 | Muirkirk Juniors | 14:00:4514:00 |
| 2022-11-09 19:30:58November 9, 2022 | Kilwinning Rangers | 0 - 6 | Auchinleck Talbot | 19:30:5819:30 |
| 2022-11-05 14:00:20November 5, 2022 | Auchinleck Talbot | 3 - 1 | Glenafton Athletic | 14:00:2014:00 |
| 2022-10-29 14:00:28October 29, 2022 | Auchinleck Talbot | 3 - 1 | Darvel | 14:00:2814:00 |
| 2022-10-22 15:00:55October 22, 2022 | Bo'ness United | 1 - 1 | Auchinleck Talbot | 15:00:5515:00 |
| 2022-10-15 14:00:47October 15, 2022 | Auchinleck Talbot | 5 - 0 | Craigmark Burntonians | 14:00:4714:00 |
| 2022-10-08 14:00:01October 8, 2022 | Auchinleck Talbot | 1 - 2 | Kirkintilloch Rob Roy | 14:00:0114:00 |
| 2022-10-01 14:00:00October 1, 2022 | Pollok | 1 - 1 | Auchinleck Talbot | 14:00:0014:00 |
| 2022-09-24 15:00:16September 24, 2022 | Rossvale | 2 - 4 | Auchinleck Talbot | 15:00:1615:00 |
| 2022-09-16 20:00:13September 16, 2022 | Syngenta FC | 2 - 4 | Auchinleck Talbot | 20:00:1320:00 |
| 2022-09-03 14:00:29September 3, 2022 | Petershill | 1 - 1 | Auchinleck Talbot | 14:00:2914:00 |
| 2022-08-27 15:00:42August 27, 2022 | Auchinleck Talbot | 7 - 0 | Coldstream FC | 15:00:4215:00 |
| 2022-08-06 14:00:17August 6, 2022 | Auchinleck Talbot | 0 - 3 | Darvel | 14:00:1714:00 |
| 2022-07-30 14:00:55July 30, 2022 | Troon | 1 - 2 | Auchinleck Talbot | 14:00:5514:00 |
| 2022-05-07 14:00:37May 7, 2022 | Glenafton Athletic | 0 - 1 | Auchinleck Talbot | 14:00:3714:00 |
| 2022-05-04 19:30:58May 4, 2022 | Auchinleck Talbot | 0 - 1 | Kirkintilloch Rob Roy | 19:30:5819:30 |
| 2022-04-27 19:30:27April 27, 2022 | Auchinleck Talbot | 2 - 0 | Rossvale | 19:30:2719:30 |
| 2022-04-23 14:00:18April 23, 2022 | Benburb FC | 2 - 2 | Auchinleck Talbot | 14:00:1814:00 |
| 2022-04-20 18:30:40April 20, 2022 | Auchinleck Talbot | 1 - 1 | | 18:30:4018:30 |
| 2022-04-18 19:30:21April 18, 2022 | Darvel | 2 - 2 | Auchinleck Talbot | 19:30:2119:30 |
| 2022-04-13 19:30:16April 13, 2022 | Auchinleck Talbot | 6 - 0 | Rutherglen Glencairn | 19:30:1619:30 |
| 2022-04-09 14:00:41April 9, 2022 | Largs Thistle | 1 - 1 | Auchinleck Talbot | 14:00:4114:00 |
| 2022-03-27 09:38:19March 27, 2022 | Auchinleck Talbot | 3 - 0 | Bonnyton Thistle | 09:38:1909:38 |