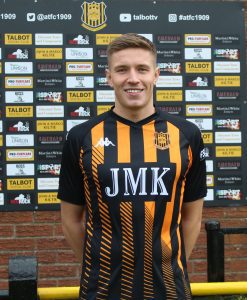 Sponsor: Cameron Torrance; Isla McCurdy
BIO:
Jamie initially started his career at Rangers as a youth, prior to a move to Ayr United where he captained their u20's for two seasons. He would then go on loan to Girvan FC where he won the league, prior to joining Benburb for their championship winning season.
Jamie then made a return to first team league football with Annan Athletic, before again returning to non league football.
SCOTTISH CUP
| Season | Team | Appearances | Goals | Assists | YC | RC |
| --- | --- | --- | --- | --- | --- | --- |
| 2022/23 | Auchinleck Talbot | 3 | 0 | 0 | 1 | 0 |
| Total | - | 3 | 0 | 0 | 1 | 0 |
SOUTH REGION CHALLENGE CUP
| Season | Team | Appearances | Goals | Assists | YC | RC |
| --- | --- | --- | --- | --- | --- | --- |
| 2022/23 | Auchinleck Talbot | 1 | 0 | 0 | 0 | 0 |
| Total | - | 1 | 0 | 0 | 0 | 0 |
SCOTTISH JUNIOR CUP
| Season | Team | Appearances | Goals | Assists | YC | RC |
| --- | --- | --- | --- | --- | --- | --- |
| 2022/23 | Auchinleck Talbot | 1 | 0 | 0 | 1 | 0 |
| Total | - | 1 | 0 | 0 | 1 | 0 |
PDM BUILDBASE WOSL PREMIER
| Season | Team | Appearances | Goals | Assists | YC | RC |
| --- | --- | --- | --- | --- | --- | --- |
| 2022/23 | Auchinleck Talbot | 19 | 0 | 1 | 1 | 2 |
| Total | - | 19 | 0 | 1 | 1 | 2 |
Indigo Comms WOSL Cup
| Season | Team | Appearances | Goals | Assists | YC | RC |
| --- | --- | --- | --- | --- | --- | --- |
| 2022/23 | Auchinleck Talbot | 5 | 0 | 0 | 1 | 0 |
| Total | - | 5 | 0 | 0 | 1 | 0 |
Career Total
| Season | Appearances | Goals | Assists | YC | RC |
| --- | --- | --- | --- | --- | --- |
| 2022/23 | 29 | 0 | 1 | 4 | 2 |
| Total | 29 | 0 | 1 | 4 | 2 |
| Date | Home | Results | Away | Time |
| --- | --- | --- | --- | --- |
| 2023-05-13 14:00:11May 13, 2023 | Darvel | 2 - 2 | Auchinleck Talbot | 14:00:1114:00 |
| 2023-05-10 19:30:28May 10, 2023 | Hurlford United | 0 - 2 | Auchinleck Talbot | 19:30:2819:30 |
| 2023-05-06 14:00:14May 6, 2023 | Irvine Meadow | 1 - 3 | Auchinleck Talbot | 14:00:1414:00 |
| 2023-05-03 19:15:53May 3, 2023 | Beith Juniors | 1 - 2 | Auchinleck Talbot | 19:15:5319:15 |
| 2023-04-28 19:30:48April 28, 2023 | Auchinleck Talbot | 2 - 0 | Clydebank | 19:30:4819:30 |
| 2023-04-25 19:00:41April 25, 2023 | Largs Thistle | 1 - 0 | Auchinleck Talbot | 19:00:4119:00 |
| 2023-04-22 14:00:01April 22, 2023 | Auchinleck Talbot | 2 - 0 | Arthurlie | 14:00:0114:00 |
| 2023-04-19 18:30:19April 19, 2023 | Arthurlie | 0 - 3 | Auchinleck Talbot | 18:30:1918:30 |
| 2023-04-17 19:30:19April 17, 2023 | Auchinleck Talbot | 4 - 0 | Cumnock | 19:30:1919:30 |
| 2023-04-15 14:00:47April 15, 2023 | Clydebank | 2 - 1 | Auchinleck Talbot | 14:00:4714:00 |
| 2023-04-12 19:30:05April 12, 2023 | Auchinleck Talbot | 1 - 1 | Troon | 19:30:0519:30 |
| 2023-04-08 14:00:02April 8, 2023 | Auchinleck Talbot | 1 - 1 | Kilwinning Rangers | 14:00:0214:00 |
| 2023-04-03 19:30:14April 3, 2023 | Auchinleck Talbot | 3 - 1 | Kilwinning Rangers | 19:30:1419:30 |
| 2023-03-18 14:00:31March 18, 2023 | Auchinleck Talbot | 3 - 1 | Gartcairn FC | 14:00:3114:00 |
| 2023-01-25 19:30:11January 25, 2023 | Auchinleck Talbot | 3 - 0 | Largs Thistle | 19:30:1119:30 |
| 2023-01-07 14:00:46January 7, 2023 | Auchinleck Talbot | 1 - 0 | Johnstone Burgh | 14:00:4614:00 |
| 2022-11-26 15:00:36November 26, 2022 | Raith Rovers | 3 - 0 | Auchinleck Talbot | 15:00:3615:00 |
| 2022-11-19 14:00:16November 19, 2022 | Auchinleck Talbot | 3 - 0 | Neilston | 14:00:1614:00 |
| 2022-11-12 14:00:45November 12, 2022 | Auchinleck Talbot | 4 - 1 | Muirkirk Juniors | 14:00:4514:00 |
| 2022-11-09 19:30:58November 9, 2022 | Kilwinning Rangers | 0 - 6 | Auchinleck Talbot | 19:30:5819:30 |
| 2022-11-05 14:00:20November 5, 2022 | Auchinleck Talbot | 3 - 1 | Glenafton Athletic | 14:00:2014:00 |
| 2022-10-08 14:00:01October 8, 2022 | Auchinleck Talbot | 1 - 2 | Kirkintilloch Rob Roy | 14:00:0114:00 |
| 2022-09-24 15:00:16September 24, 2022 | Rossvale | 2 - 4 | Auchinleck Talbot | 15:00:1615:00 |
| 2022-09-16 20:00:13September 16, 2022 | Syngenta FC | 2 - 4 | Auchinleck Talbot | 20:00:1320:00 |
| 2022-09-03 14:00:29September 3, 2022 | Petershill | 1 - 1 | Auchinleck Talbot | 14:00:2914:00 |
| 2022-08-27 15:00:42August 27, 2022 | Auchinleck Talbot | 7 - 0 | Coldstream FC | 15:00:4215:00 |
| 2022-08-13 14:00:51August 13, 2022 | Cambuslang Rangers | 0 - 1 | Auchinleck Talbot | 14:00:5114:00 |
| 2022-08-06 14:00:17August 6, 2022 | Auchinleck Talbot | 0 - 3 | Darvel | 14:00:1714:00 |
| 2022-07-30 14:00:55July 30, 2022 | Troon | 1 - 2 | Auchinleck Talbot | 14:00:5514:00 |