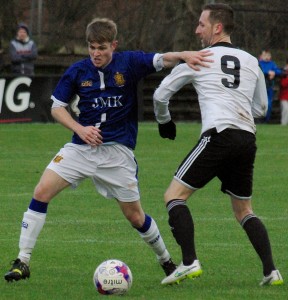 It's no secret that William Boyd is leaving Auchinleck Talbot due to work commitments and through the website William would like to thank the club and the supporters.
Last summer I done a summer internship for 10 weeks in London with ABInBev, the largest beer company in the world, behind such beers as Stella Artois, Budweiser, Corona and Becks to name a few. Following the Internship I went back to University to finish my finale year and graduate in chemical engineering. During this time ABInBev offered me a graduate position conditional on my finale grade.
The Job is a Global Management Trainee. It's a 10 months intense graduate program, which aims to teach me how every part of the company works, all over the world starting in St Louis America in August.
Playing at Auchinleck Talbot was easily my happiest playing days, winning 5 medals, one of which the Junior Scottish Cup! I feel extremely lucky to say I have played in front of the finest fans in junior football, on the finest park in junior football and with the finest footballing minds/players in junior football.  The club is extremely professional in every aspect and has a phenomenal hunger to succeed and this made for a very enjoyable and satisfying environment to play my football.
Over the two years I played in brilliant squads flooded with an abundance of talent and experience, which has taught me alot.  However more importantly the squads were full of brilliant personalities and top teammates whom I share a lot of good memories with. My only regret is having to leave after two short years….but I will be no stranger to Beechwood when I am back in Ayrshire. 
Thanks to the club as a whole!!!!…. Eeeka Peeka