TALBOT NEWSLETTER – MON 31 Jan 2022
TALBOT WEEKLY LOTTERY DRAW
SUNDAY 23 JAN 2022                                                                                    JACKPOT £750
NUMBERS: 1-2-10-18 BONUS BALL 20                                            NO WINNERS
SUNDAY 30 JAN 2022                                                                                    JACKPOT £800
NUMBERS: 7-9-14-16 BONUS BALL   8                                            NO WINNERS
SUNDAY 06 FEB 2022                                                                                      JACKPOT £850
Clients can also pay their lottery direct by bank transfer to:
Auchinleck Talbot FC Lottery:   Account Number: 30633545      Sort Code: 82 – 62 – 00
Promoter: Morton Wright Jnr: 07972 719553
MERCHANDISE SALES
We are also able to do voucher letters for gifts to any value you wish….
We also have Visual Images of our new Kit now available website www.auchinlecktalbot.com and social media outlets.
CONTACT MORTON WRIGHT JNR: 07972 719553 FOR DETAILS AFTER 7PM
AUCHINLECK TALBOT FC FUNDRAISING CLUB 2021-22
The payment dates for the new season's subscriptions are:
SATURDAY 07 AUGUST 2021                    SATURDAY 04 SEPTEMBER 2021                  SATURDAY 02 OCTOBER 2021
SATURDAY 06 NOVEMBER 2021            SATURDAY 04 DECEMBER 2021                  SATURDAY 01 JANUARY 2022
SATURDAY 05 FEBRUARY 2022           SATURDAY 05 MARCH 2022                          SATURDAY 02 APRIL 2022                                                                                       SATURDAY 07 MAY 2022
ANNUAL MEMBERS AGM & HOSPITALITY DAY 2022
A provisional date of Saturday 18 June 2022 has been arranged for the above AGM & Hospitality Day subject to possible Covid-19 restrictions
                  To join please contact the following Officials: Henry Dumigan (07929525494/[email protected]/Bobby Millar (07771508907/[email protected])
ADVERTISING
Any business or individual interested in Trackside or Match Programme Advertising should contact Colin Chisholm on 07929 831057 or e-mail [email protected] as soon as possible for further details.
Any enquiries regarding any of the above should be made to Colin Chisholm as above with the exception of Bronze Level Match Sponsorship where enquiries should be made to Morton Wright Jnr on 07972 719553.
Your support plays a major part in the successful running of the Club and will be very much appreciated.
Colin Chisholm, Commercial Manager, Auchinleck Talbot FC
FIXTURES:
Sat 05 Feb 2022 – SOUTH REGION CHALLENGE CUP – 4TH ROUND
Away v Irvine Meadow X1………………………………………………………………………………………………2.00pm
SAT 12 Feb 2022 – WOSFL PREMIER DIVISION
Home v Pollok FC…………………………………….………………………………..2.00pm
MATCH SPONSORS
F.S.H.V; The Old Crocks; Willie Houston & Friends; Willie Young Loyal Supporters Club; Scott Reid & Friends; Mauchline Bowling Club; Loons Supporters Club: Aspire Wealth (Scotland)
MATCHBALL SPONSOR 
Emerald Contracts
CLUB HOSTS
Derrick McDicken; Billy Young; Bryan Slavin
TALBOT WALL
All bricks now fitted to the Talbot Wall
ATFC wishes to thank all contributors to the Talbot Wall for their kind support.
Images will be made available on our Social Media Outlets in due course
Contact Henry Dumigan on 07929525494 or [email protected] for enquiries.
AUCHINLECK TALBOT FC  –  SPORTSMANS DINNER 2022
AUCHINLECK INDOOR BOWLING CLUB
SATURDAY 7th MAY 2022
6.30 FOR 7.00PM
On behalf of the organizing committee I would ask you to kindly lend your support by sponsoring a Table or part Table at the above-mentioned event.
TOP TABLE GUESTS
CHAIRMAN:                  
JIM MORRISON
SPEAKERS:                    
MR DEREK FERGUSON (FORMER RANGERS, HEARTS & SCOTLAND PLAYER & AFTER DINNER SPEAKER)
MR ERIC DAVIDSON (ACCOMPLISHED COMEDIAN & AFTER DINNER SPEAKER)
Tables of 10 cost £350.00 or £35.00 per person & includes a 3-course meal.
(Tables can be arranged to suit your company)
To book your table please contact:
EVENT SECRETARY
Morton Wright Snr
Tel: 07934 139122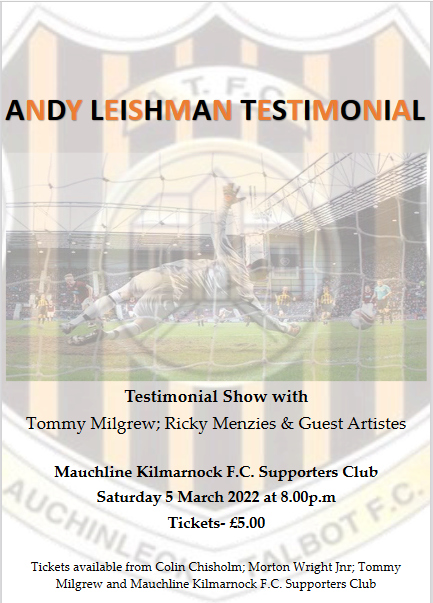 THE ANDY LEISHMAN TESTIMONIAL SHOW
SATURDAY 5 MARCH 2022 –

AUCHINLECK TALBOT FC SUPPORTERS SOCIAL CLUB
Membership now due for at £6 per person, existing members have until 28th February 2022 to renew. New members welcome from 1st March 2022.
Once the membership is full the book will close.
Morton Wright Jnr, Secretary.