TALBOT NEWSLETTER – MON 26 APRIL 2021
TERRACING UPGRADE
The Terracing upgrade on the section North Side of the Stand is now complete thanks to the excellent work carried out by All Good Groundworks.
MEDICAL ROOM
The Medical Room Building Roller Shutter now in place.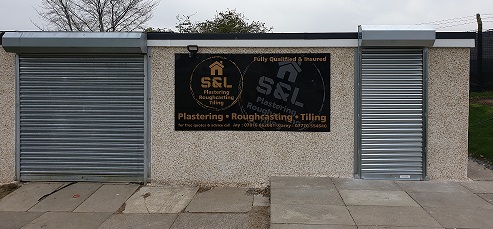 NEXT DRAW                                                                         JACKPOT £500
LOTTERY SUSPENDED TILL FURTHER NOTICE DUE TO GOVERNMENT COVID-19 RESTRICTIONS
Clients can also pay their lottery direct by bank transfer to:
Auchinleck Talbot FC Lottery:   Account Number: 30633545      Sort Code: 82 – 62 – 00
Promoter: Morton Wright Jnr: 07972 719553
MERCHANDISE SALES – UPDATE
We are also able to do voucher letters for gifts to any value you wish….
Visual Images of our new Kit is now available on our website www.auchinlecktalbot.com and social media outlets.
CONTACT MORTON WRIGHT JNR: 07972 719553 FOR DETAILS AFTER 7PM
AUCHINLECK TALBOT FC FUNDRAISING CLUB 2020-21
PAYMENT DATES FOR THIS SEASON'S SUBSCRIPTIONS:
SATURDAY 01 MAY 2021
WOULD EXISTING MEMBERS YET TO PAY THIS SEASON'S SUBSCRIPTION PLEASE CONTACT HENRY DUMIGAN OR BOBBY MILLAR
                    Summary of Fundraising Club Benefits offered by ATFC
·              10% DISCOUNT ON SEASON TICKET AND MERCHANDISE ITEMS.
·              NORMAL HOSPITALITY DAY AT THE END OF EVERY SEASON + FOR SEASON 2019-20 WHENEVER RESTRICTIONS ARE EASED SUFFICIENTLY TO ALLOW (NON TRANSFERABLE & MEMBERS ONLY)
·              MONTHLY DRAW FOR CORPORATE IN HOUSE BUFFET MATCH HOSPITALITY FOR 4 MEMBERS (MUST HAVE MINIMUM LATEST YEAR'S SUBSCRIPTION FULLY PAID OR A NEW MEMBER SIGNED UP FOR CONTINUOUS MONTHLY £10 PAYMENTS) NON TRANSFERABLE MEMBERS ONLY AND QUALIFY ONLY ONCE PER SEASON. BACKDATED TO AUGUST 2020                To join please contact the following Officials:
Henry Dumigan (07929525494/[email protected]/Bobby Millar (07771508907/[email protected])
ADMINISTRATOR/COVID 19 OFFICER 
The club are currently looking to appoint an Administrator/Covd19 Officer to oversee the smooth running of Auchinleck Talbot Youth Academy.
For further information or to register an interest in the position contact Henry Dumigan on: 07929525494 or [email protected]
BEECHWOOD PARK GENERAL TIDY-UP
The Club has organised a weekly General Tidy-up of Beechwood Park from Saturday Morning coming, 24 April 10 till 11am and throughout the month of May. All work will be carried out following current COVID – 19 restriction guidelines
GROUND IMPROVEMENT UPDATE
BOARDROOM
New Boardroom and Hospitality facility complete
FLOODLIGHT INSTALLATION
Complete.
ASTROTURF INSTALLATION
Pitch Partners Pro-Turfcare Ltd has now completed the Astroturf Installation on the remaining
Trackside.
PRIVACY SCREENING
Privacy Screening has been fitted to the Perimeter Fence at Beechwood Park.
TERRACING UPGRADE
The Terracing upgrade on the section North Side of the Stand complete.
AUCHINLECK TALBOT FC SUPPORTERS SOCIAL CLUB
The extension and interior refurbishment of the front lounge has been completed. The refurbishment of the new JOHN & MARGO KILTIE SPONSORS LOUNGE is now underway.
CLOSE SEASON PITCH RENOVATION
Close season Pitch Renovations carried out by our pitch partners Pro-Turfcare Ltd now underway.
WEBSITE UPGRADE
Work is now in progress on the upgrading our website www.auchinlecktalbot.com
Pre-Season Friendly Matches:
The Club has provisionally agreed to an invitation from Neilston FC to play for the Hugh Blair Trophy on Sat 26 June at Brig O Lea Stadium, Neilston.
Several other invitations are being considered at present.