v
Report
Talbot travelled to Annbank to take on the local United in the first of their friendly matches. The game was played in a surreal atmosphere as fans were banned due to Covid-19 restriction meaning only club officials were present.
The match was by as a contest in the first half as Talbot racked up a 3-0 lead, and after a flurry of substitutions in the second half they added another two goals to finish with an impessive 5-0 victory.
The first goal came through clever lead up work when Neil McPherson chipped a superb pass up the wing to Mark Shankland. He in turn showed great skill by bringing the ball down and flashing a wicked left foot cross in front of the home keeper. Unfortunately for the goalie he collided with his own player leaving an unmarked JAMIE GLASOW to bundle the ball into the net.
Goal number two came about due to a powerfull run up the left wing by Jack McDowall who left a number of Annbank players in his in his wake leaving him time to pick out the shaved head of STEPHEN WILSON who had all the time in the world to stear the ball past the keeper.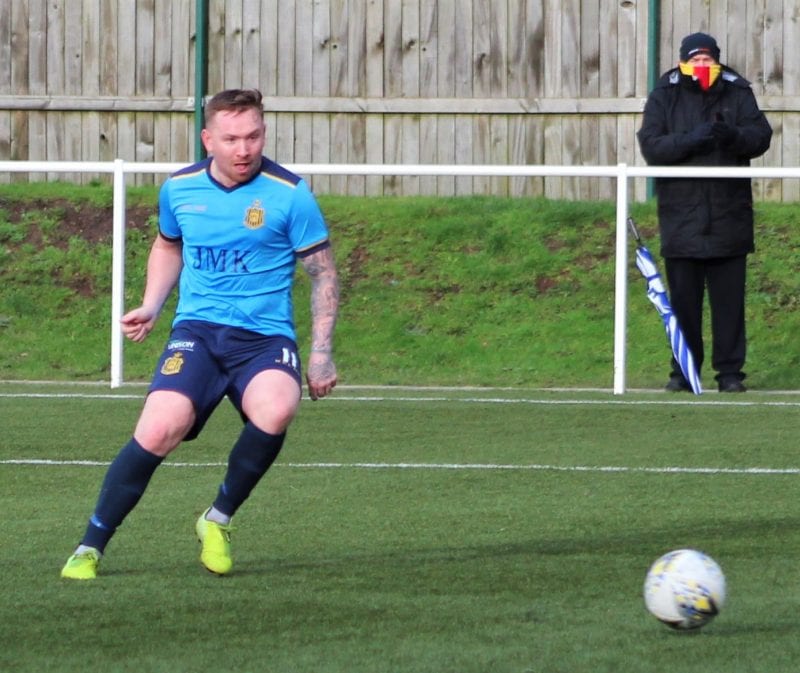 Goal of the game fell to MARK SHANKLAND who latched onto a brilliant through ball by Jamie Glasgow and after bamboozling a crowd of Annbank players who were expecting him to pass the ball, he set himself up to wrong foot the keeper and send a stunning drive from just inside the box into the net,
There was a number of changes during the interval and after just being intoduced to the proceedings BRYAN BOYLAN made it 4-0 when a speculative long ball from the wing wasn't cleared by the home defence which fell into the path of the striker. The former "Buffs" hitman needed no second chances as he did well to kill a difficult loose ball leaving him time to pick his spot in the left hand side of the goal.
The game was over as a contest soon after when a Hamish McKinlay corner found the head of GRAHAM WILSON at the front post, where he glanced the ball high into the net away from the clutching hand of the keeper.
All credit to the "Bankies" who put up a decent display which was lead by former Talbot player Robert Love. The Confernce side did give the Talbot defence some food for thought, and proved to be difficult opposition in parts of the game.
TALBOT: Leishman, Lyle (R.McCracken), A.Wilson, Young (C.McCracken), McPherson (Healy), Hyslop (Armstrong), McDowal (G.Wilson), Shankland (McKinlay), Glasgow (Boylan), Pearson (White), S.Wilson)
Details
| Date | Time | Competition | Season |
| --- | --- | --- | --- |
| September 12, 2020 | 14:00 | Friendly | 2020/21 |
Results
| | |
| --- | --- |
| Annbank United | 0 |
| Auchinleck Talbot | 5 |
Annbank United
| Position | Goals | Assists | YC | RC |
| --- | --- | --- | --- | --- |
| | 0 | 0 | 0 | 0 |
Auchinleck Talbot
| Position | Goals | Assists | YC | RC |
| --- | --- | --- | --- | --- |
| | 0 | 0 | 0 | 0 |