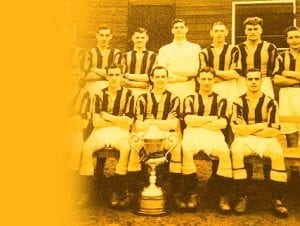 For decades now Auchinleck Talbot have stood apart when offering businesses and supporters the chance to join in the Talbot Experience.  Talbot like any other club rely heavily on the money generated behind the scenes and have over the years have drawn up sponsorship deals where even the ordinary supporter can afford to have the chance  to feel a part of all the match day events.
From match day and player sponsorship or getting the kids involved as a mascot, Colin Chisholm and his team will make it a day to remember and an experience you will never forget. The excellent hospitality shown by Talbot's hard working backroom staff has proved to be very successful which has seen former sponsors returning again and again.
If you feel that you would like to be part of  The Talbot Experience then please see listed below all our match day offers.
MATCH SPONSORSHIP: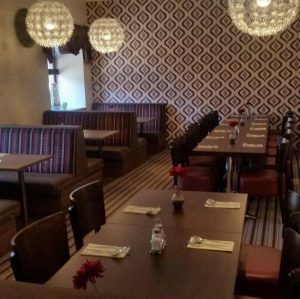 You and your party  will enjoy a two course pre-match meal at the Barony Restaurant situated a stone's throw from Beechwood Park. You will then be taken to the Talbot Social Club for some drinks before and after the match in the John & Margo Kiltie Sponsorship Lounge. Your name or business will be emblazoned on the match day programme which you and your group will receive free of charge. Your name and business will also be on the front of our newly re-vamped website.
From the start of season 2021/2022 the Club will be offering a 3 tier sponsorship package in the new J.M.K. Sponsors Lounge as follows —
1. GOLD LEVEL — 2 Course Lunch (including a drink) at Barony Restaurant followed by hospitality in Sponsors Lounge (pre-match; half-time and post-match); name in Match Programme and associated publicity; admission to match and copy of Match Programme — Cost £50.00 per head
2. SILVER LEVEL — Pre-match buffet in Sponsors Lounge with hospitality, match admission etc. as above — £40.00 per head
3. BRONZE LEVEL — Loons Club Day –No thrills or spills for this type of sponsorship, just a chance to have a good drink in good company in the Talbot Club before and after the match. Once a Loon always a Loon as this can prove to be a day you might not remember never mind forget.  £30.00 per head
PLAYER SPONSORSHIP: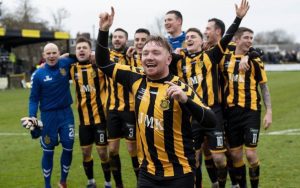 £125 can make you a player sponsor for the season, where your name will appear in every match programme, along with your name highlighted in our players information page in the new re-vamped website. You will also recieve a replica Jersey or Polo Shirt of your choice. You will also have the option to include Match Hospitality for 1 additional person for an extra £25.00. (Total cost £150.00).
MASCOT: Give the kids the chance to lead the team out at Beechwood with our Mascot sponsorship deal. Your child's name will be printed on the front page of the match programme along with a feature in the programme itself. Your child will also be highlighted in the website, with the biggest event being the chance to lead the Talbot out onto the pitch itself. This is a very popular form of sponsorship for the club, but mostly it's a day a child will never forget. Contact Colin Chisholm on 07929 831057 or e-mail [email protected] as soon as possible for further details.
TRACKSIDE & MATCH PROGRAMME ADVERTISING: Any business or individual interested in Trackside or Match Programme Advertising should contact Colin Chisholm on 07929 831057 or e-mail [email protected] as soon as possible for further details.
Any enquiries regarding any of the above should be made to Colin Chisholm as above with the exception of Bronze Level Match Sponsorship where enquiries should be made to Morton Wright Jnr on 07972 719553.
 Your support plays a major part in the successful running of the Club and will be very much appreciated.
Colin Chisholm, Commercial Manager, Auchinleck Talbot FC