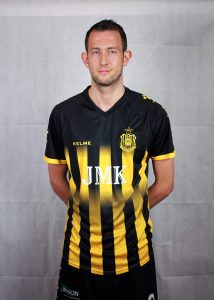 Position

Midfielder

Past Teams

Annbank United
SPONSORED BY: TAM McMILLAN, WILLIE YOUNG LOYAL TALBOT SUPPORTERS CLUB.

POSITION: Midfielder
JOINED TALBOT: July 2012
D.O.B: 09/01/1988
SQUAD NUMBER: 8
BIO: Signed from Annbank United in 2012 the talented big midfielder went through some tough times recently with a recurring knee problem. Broke down during a league match against Pollok a few seasons ago, but thankfully a successful operation has put paid to Dwayne's woe's and he has been instrumental in Talbot's success over the past season. He scored one of the best goals ever seen in a Scottish Cup final.
KILMARNOCK PIE WOSL CUP
| Season | Team | Appearances | Goals | Assists | YC | RC | Win Ratio | Draw Ratio | Loss Ratio |
| --- | --- | --- | --- | --- | --- | --- | --- | --- | --- |
| 2021/22 | Auchinleck Talbot | 1 | 0 | 0 | 0 | 0 | 0.00 | 0.00 | 100.00 |
| 2022/23 | Auchinleck Talbot | 0 | 0 | 0 | 0 | 0 | 0 | 0 | 0 |
| Total | - | 1 | 0 | 0 | 0 | 0 | 0 | 0 | 100 |
SCOTTISH CUP
| Season | Team | Appearances | Goals | Assists | YC | RC | Win Ratio | Draw Ratio | Loss Ratio |
| --- | --- | --- | --- | --- | --- | --- | --- | --- | --- |
| 2021/22 | Auchinleck Talbot | 2 | 0 | 0 | 1 | 0 | 100.00 | 0.00 | 0.00 |
| 2022/23 | Auchinleck Talbot | 0 | 0 | 0 | 0 | 0 | 0 | 0 | 0 |
| Total | - | 2 | 0 | 0 | 1 | 0 | 100 | 0 | 0 |
IndigoUnifiedUK SCOTTISH JUNIOR CUP
| Season | Team | Appearances | Goals | Assists | YC | RC | Win Ratio | Draw Ratio | Loss Ratio |
| --- | --- | --- | --- | --- | --- | --- | --- | --- | --- |
| 2021/22 | Auchinleck Talbot | 5 | 2 | 0 | 0 | 0 | 40.00 | 0.00 | 0.00 |
| 2022/23 | Auchinleck Talbot | 0 | 0 | 0 | 0 | 0 | 0 | 0 | 0 |
| Total | - | 5 | 2 | 0 | 0 | 0 | 40 | 0 | 0 |
SOUTH REGION CHALLENGE CUP
| Season | Team | Appearances | Goals | Assists | YC | RC | Win Ratio | Draw Ratio | Loss Ratio |
| --- | --- | --- | --- | --- | --- | --- | --- | --- | --- |
| 2021/22 | Auchinleck Talbot | 6 | 3 | 0 | 1 | 0 | 83.33 | 0.00 | 0.00 |
| 2022/23 | Auchinleck Talbot | 0 | 0 | 0 | 0 | 0 | 0 | 0 | 0 |
| Total | - | 6 | 3 | 0 | 1 | 0 | 83.33 | 0 | 0 |
PDM BUILDBASE WOSL PREMIER
| Season | Team | Appearances | Goals | Assists | YC | RC | Win Ratio | Draw Ratio | Loss Ratio |
| --- | --- | --- | --- | --- | --- | --- | --- | --- | --- |
| 2021/22 | Auchinleck Talbot | 23 | 4 | 3 | 1 | 0 | 43.48 | 8.70 | 4.35 |
| 2022/23 | Auchinleck Talbot | 0 | 0 | 0 | 0 | 0 | 0 | 0 | 0 |
| Total | - | 23 | 4 | 3 | 1 | 0 | 43.48 | 8.7 | 4.35 |
Career Total
| Season | Appearances | Goals | Assists | YC | RC | Win Ratio | Draw Ratio | Loss Ratio |
| --- | --- | --- | --- | --- | --- | --- | --- | --- |
| 2021/22 | 37 | 9 | 3 | 3 | 0 | 51.35 | 5.41 | 5.41 |
| Total | 37 | 9 | 3 | 3 | 0 | 51.35 | 5.41 | 5.41 |
| Date | Home | Results | Away | Time |
| --- | --- | --- | --- | --- |
| 2022-06-04 16:10:24June 4, 2022 | Auchinleck Talbot | 2 - 0 | Yoker Athletic | 16:10:2416:10 |
| 2022-05-22 15:00:05May 22, 2022 | Auchinleck Talbot | 3 - 1 | Bonnyrigg Rose | 15:00:0515:00 |
| 2022-05-14 14:00:56May 14, 2022 | Cumbernauld United | 0 - 5 | Auchinleck Talbot | 14:00:5614:00 |
| 2022-05-07 14:00:37May 7, 2022 | Glenafton Athletic | 0 - 1 | Auchinleck Talbot | 14:00:3714:00 |
| 2022-05-04 19:30:58May 4, 2022 | Auchinleck Talbot | 0 - 1 | Kirkintilloch Rob Roy | 19:30:5819:30 |
| 2022-04-30 14:00:42April 30, 2022 | Auchinleck Talbot | 3 - 1 | Sauchie Juniors | 14:00:4214:00 |
| 2022-04-27 19:30:27April 27, 2022 | Auchinleck Talbot | 2 - 0 | Rossvale | 19:30:2719:30 |
| 2022-04-18 19:30:21April 18, 2022 | Darvel | 2 - 2 | Auchinleck Talbot | 19:30:2119:30 |
| 2022-04-16 14:30:11April 16, 2022 | Auchinleck Talbot | 2 - 1 | Kirkintilloch Rob Roy | 14:30:1114:30 |
| 2022-04-13 19:30:16April 13, 2022 | Auchinleck Talbot | 6 - 0 | Rutherglen Glencairn | 19:30:1619:30 |
| 2022-04-02 14:00:49April 2, 2022 | Auchinleck Talbot | 2 - 1 | Pollok | 14:00:4914:00 |
| 2022-03-19 14:00:44March 19, 2022 | Auchinleck Talbot | 1 - 2 | Cumnock | 14:00:4414:00 |
| 2022-03-16 19:30:29March 16, 2022 | Auchinleck Talbot | 3 - 1 | Kilwinning Rangers | 19:30:2919:30 |
| 2022-03-09 19:30:28March 9, 2022 | Auchinleck Talbot | 3 - 1 | Caledonian Braves | 19:30:2819:30 |
| 2022-03-05 14:00:46March 5, 2022 | Irvine Meadow | 1 - 3 | Auchinleck Talbot | 14:00:4614:00 |
| 2022-02-26 14:00:40February 26, 2022 | Auchinleck Talbot | 2 - 1 | Irvine Meadow | 14:00:4014:00 |
| 2022-02-23 19:30:58February 23, 2022 | Auchinleck Talbot | 0 - 0 | Kilbirnie Ladeside | 19:30:5819:30 |
| 2022-02-19 14:00:22February 19, 2022 | Troon | 0 - 2 | Auchinleck Talbot | 14:00:2214:00 |
| 2022-02-12 14:00:48February 12, 2022 | Auchinleck Talbot | 1 - 0 | Pollok | 14:00:4814:00 |
| 2022-01-15 14:00:02January 15, 2022 | Auchinleck Talbot | 3 - 2 | Irvine Meadow | 14:00:0214:00 |
| 2022-01-08 13:30:21January 8, 2022 | Craigmark Burntonians | 0 - 2 | Auchinleck Talbot | 13:30:2113:30 |
| 2021-12-18 13:30:01December 18, 2021 | Kilwinning Rangers | 1 - 0 | Auchinleck Talbot | 13:30:0113:30 |
| 2021-12-11 13:00:19December 11, 2021 | Kirkintilloch Rob Roy | 1 - 0 | Auchinleck Talbot | 13:00:1913:00 |
| 2021-11-20 14:00:40November 20, 2021 | Auchinleck Talbot | 7 - 1 | West Calder United | 14:00:4014:00 |
| 2021-10-23 15:00:02October 23, 2021 | Preston Athletic | 0 - 2 | Auchinleck Talbot | 15:00:0215:00 |
| 2021-10-13 19:30:30October 13, 2021 | Auchinleck Talbot | 1 - 2 | Darvel | 19:30:3019:30 |
| 2021-10-09 14:00:30October 9, 2021 | Auchinleck Talbot | 1 - 0 | Hurlford United | 14:00:3014:00 |
| 2021-10-02 14:00:57October 2, 2021 | Pollok | 3 - 3 | Auchinleck Talbot | 14:00:5714:00 |
| 2021-09-29 19:30:25September 29, 2021 | Rossvale | 0 - 1 | Auchinleck Talbot | 19:30:2519:30 |
| 2021-09-25 14:30:15September 25, 2021 | Carluke Rovers | 1 - 2 | Auchinleck Talbot | 14:30:1514:30 |
| 2021-09-18 15:00:31September 18, 2021 | Irvine Meadow | 1 - 3 | Auchinleck Talbot | 15:00:3115:00 |
| 2021-09-11 14:00:07September 11, 2021 | Blantyre Victoria | 0 - 3 | Auchinleck Talbot | 14:00:0714:00 |
| 2021-09-04 14:00:38September 4, 2021 | Cumnock | 2 - 3 | Auchinleck Talbot | 14:00:3814:00 |
| 2021-08-28 14:00:11August 28, 2021 | Auchinleck Talbot | 3 - 0 | Cumbernauld United | 14:00:1114:00 |
| 2021-08-21 14:30:58August 21, 2021 | Auchinleck Talbot | 3 - 1 | Montrose Roselea | 14:30:5814:30 |
| 2021-08-18 19:30:32August 18, 2021 | Auchinleck Talbot | 1 - 1 | Beith Juniors | 19:30:3219:30 |
| 2021-08-14 14:00:04August 14, 2021 | Rutherglen Glencairn | 0 - 1 | Auchinleck Talbot | 14:00:0414:00 |
| 2021-08-11 19:30:36August 11, 2021 | Auchinleck Talbot | 2 - 0 | Glenafton Athletic | 19:30:3619:30 |
| 2020-03-04 19:30:48March 4, 2020 | Rutherglen Glencairn | 0 - 1 | Auchinleck Talbot | 19:30:4819:30 |
| 2020-02-08 14:00:10February 8, 2020 | Auchinleck Talbot | 2 - 1 | Rutherglen Glencairn | 14:00:1014:00 |
| 2020-02-01 14:00:08February 1, 2020 | Rossvale | 1 - 2 | Auchinleck Talbot | 14:00:0814:00 |
| 2020-01-18 13:45:38January 18, 2020 | Auchinleck Talbot | 5 - 0 | Benburb FC | 13:45:3813:45 |
| 2020-01-04 13:45:18January 4, 2020 | Auchinleck Talbot | 4 - 0 | Beith Juniors | 13:45:1813:45 |
| 2019-12-21 13:45:33December 21, 2019 | Auchinleck Talbot | 5 - 2 | Kilbirnie Ladeside | 13:45:3313:45 |
| 2019-12-14 13:45:29December 14, 2019 | Troon | 0 - 2 | Auchinleck Talbot | 13:45:2913:45 |
| 2019-12-07 13:45:05December 7, 2019 | Auchinleck Talbot | 6 - 1 | Kilwinning Rangers | 13:45:0513:45 |
| 2019-11-30 13:45:49November 30, 2019 | Rossvale | 1 - 2 | Auchinleck Talbot | 13:45:4913:45 |
| 2019-11-27 19:45:31November 27, 2019 | Arbroath | 3 - 0 | Auchinleck Talbot | 19:45:3119:45 |
| 2019-11-23 13:45:19November 23, 2019 | Auchinleck Talbot | 1 - 1 | Arbroath | 13:45:1913:45 |
| 2019-11-16 13:45:23November 16, 2019 | Glenafton Athletic | 3 - 0 | Auchinleck Talbot | 13:45:2313:45 |
| 2019-11-02 14:00:16November 2, 2019 | Auchinleck Talbot | 3 - 0 | Clydebank | 14:00:1614:00 |
| 2019-10-26 14:00:22October 26, 2019 | Auchinleck Talbot | 3 - 0 | Forfar West end | 14:00:2214:00 |
| 2019-10-19 14:30:35October 19, 2019 | Auchinleck Talbot | 1 - 0 | Cove Rangers | 14:30:3514:30 |
| 2019-10-05 14:00:58October 5, 2019 | Auchinleck Talbot | 3 - 1 | Pollok | 14:00:5814:00 |
| 2019-09-28 14:30:41September 28, 2019 | Auchinleck Talbot | 7 - 0 | Bellshill Athletic | 14:30:4114:30 |
| 2019-09-20 19:05:35September 20, 2019 | Kelty Hearts | 0 - 3 | Auchinleck Talbot | 19:05:3519:05 |
| 2019-09-14 14:00:17September 14, 2019 | Auchinleck Talbot | 1 - 1 | Hurlford United | 14:00:1714:00 |
| 2019-08-31 15:00:31August 31, 2019 | Camelon Juniors | 0 - 2 | Auchinleck Talbot | 15:00:3115:00 |
| 2019-08-28 18:30:08August 28, 2019 | Beith Juniors | 1 - 2 | Auchinleck Talbot | 18:30:0818:30 |
| 2019-08-24 14:00:56August 24, 2019 | Auchinleck Talbot | 6 - 0 | Whitletts Victoria | 14:00:5614:00 |
| 2019-08-21 18:45:28August 21, 2019 | Auchinleck Talbot | 8 - 1 | Troon | 18:45:2818:45 |
| 2019-08-17 15:00:54August 17, 2019 | Auchinleck Talbot | 6 - 1 | Dundonald Bluebell | 15:00:5415:00 |
| 2019-08-12 18:45:11August 12, 2019 | Auchinleck Talbot | 3 - 0 | Kello Rovers | 18:45:1118:45 |
| 2019-06-02 16:10:52June 2, 2019 | Auchinleck Talbot | 2 - 0 | Largs Thistle | 16:10:5216:10 |
| 2019-05-22 19:30:55May 22, 2019 | Auchinleck Talbot | 2 - 0 | Pollok | 19:30:5519:30 |
| 2019-05-15 19:15:56May 15, 2019 | Troon | 0 - 5 | Auchinleck Talbot | 19:15:5619:15 |
| 2019-05-11 14:00:57May 11, 2019 | Auchinleck Talbot | 1 - 0 | Largs Thistle | 14:00:5714:00 |
| 2019-05-08 19:00:10May 8, 2019 | Kilwinning Rangers | 0 - 1 | Auchinleck Talbot | 19:00:1019:00 |
| 2019-05-01 18:45:33May 1, 2019 | Auchinleck Talbot | 1 - 0 | Petershill | 18:45:3318:45 |
| 2019-04-27 14:00:10April 27, 2019 | Auchinleck Talbot | 2 - 0 | Hurlford United | 14:00:1014:00 |
| 2019-04-24 08:45:52April 24, 2019 | Auchinleck Talbot | 1 - 0 | Kilbirnie Ladeside | 08:45:5208:45 |
| 2019-04-17 18:30:22April 17, 2019 | Auchinleck Talbot | 1 - 1 | Irvine Meadow | 18:30:2218:30 |
| 2019-04-10 19:00:59April 10, 2019 | Clydebank | 2 - 3 | Auchinleck Talbot | 19:00:5919:00 |
| 2019-04-06 14:30:36April 6, 2019 | Auchinleck Talbot | 2 - 0 | Lochee United | 14:30:3614:30 |
| 2019-03-30 14:30:18March 30, 2019 | Lochee United | 1 - 4 | Auchinleck Talbot | 14:30:1814:30 |
| 2019-03-09 14:00:04March 9, 2019 | Cumnock | 0 - 1 | Auchinleck Talbot | 14:00:0414:00 |
| 2019-03-02 14:00:36March 2, 2019 | Auchinleck Talbot | 9 - 1 | Cambuslang Rangers | 14:00:3614:00 |
| 2019-02-23 14:00:47February 23, 2019 | Pollok | 0 - 3 | Auchinleck Talbot | 14:00:4714:00 |
| 2019-02-16 14:00:58February 16, 2019 | Auchinleck Talbot | 3 - 0 | Kirkintilloch Rob Roy | 14:00:5814:00 |
| 2019-02-10 15:00:02February 10, 2019 | Hearts Of Midlothian | 4 - 0 | Auchinleck Talbot | 15:00:0215:00 |
| 2019-01-26 13:45:12January 26, 2019 | Auchinleck Talbot | 4 - 1 | Rutherglen Glencairn | 13:45:1213:45 |
| 2019-01-19 12:15:30January 19, 2019 | Auchinleck Talbot | 1 - 0 | Ayr United | 12:15:3012:15 |
| 2019-01-12 13:30:29January 12, 2019 | Auchinleck Talbot | 3 - 1 | Cumnock | 13:30:2913:30 |
| 2019-01-05 13:45:06January 5, 2019 | Irvine Meadow | 1 - 2 | Auchinleck Talbot | 13:45:0613:45 |
| 2018-12-22 13:45:52December 22, 2018 | Auchinleck Talbot | 4 - 3 | Cumnock | 13:45:5213:45 |
| 2018-12-15 13:45:05December 15, 2018 | Hurlford United | 0 - 5 | Auchinleck Talbot | 13:45:0513:45 |
| 2018-12-08 13:45:22December 8, 2018 | Blantyre Victoria | 0 - 4 | Auchinleck Talbot | 13:45:2213:45 |
| 2018-12-01 13:45:59December 1, 2018 | Renfrew Juniors | 1 - 3 | Auchinleck Talbot | 13:45:5913:45 |
| 2018-11-24 15:00:31November 24, 2018 | Fraserburgh FC | 0 - 1 | Auchinleck Talbot | 15:00:3115:00 |
| 2018-11-10 14:00:24November 10, 2018 | Kilwinning Rangers | 0 - 0 | Auchinleck Talbot | 14:00:2414:00 |
| 2018-11-03 13:45:05November 3, 2018 | Auchinleck Talbot | 9 - 1 | Lesmahagow Juniors | 13:45:0513:45 |
| 2018-10-27 14:30:51October 27, 2018 | Auchinleck Talbot | 2 - 1 | Cove Rangers | 14:30:5114:30 |
| 2018-10-20 15:00:44October 20, 2018 | Cove Rangers | 1 - 1 | Auchinleck Talbot | 15:00:4415:00 |
| 2018-10-14 13:30:24October 14, 2018 | Auchinleck Talbot | 6 - 1 | Lesmahagow Juniors | 13:30:2413:30 |
| 2018-10-06 14:00:36October 6, 2018 | Auchinleck Talbot | 0 - 1 | Glenafton Athletic | 14:00:3614:00 |
| 2018-09-29 14:30:25September 29, 2018 | Auchinleck Talbot | 4 - 2 | Forfar West end | 14:30:2514:30 |
| 2018-09-22 15:00:35September 22, 2018 | Wick Academy | 1 - 2 | Auchinleck Talbot | 15:00:3515:00 |
| 2018-09-15 14:00:11September 15, 2018 | Auchinleck Talbot | 3 - 1 | Kilwinning Rangers | 14:00:1114:00 |
| 2018-09-08 14:00:19September 8, 2018 | Pollok | 1 - 2 | Auchinleck Talbot | 14:00:1914:00 |
| 2018-09-01 15:00:09September 1, 2018 | Auchinleck Talbot | 10 - 0 | Wigton & Bladnoch | 15:00:0915:00 |
| 2018-08-29 18:30:38August 29, 2018 | Auchinleck Talbot | 2 - 1 | Kilwinning Rangers | 18:30:3818:30 |
| 2018-08-25 14:00:08August 25, 2018 | Auchinleck Talbot | 1 - 0 | Beith Juniors | 14:00:0814:00 |
| 2018-08-20 18:45:56August 20, 2018 | Auchinleck Talbot | 3 - 1 | Whitletts Victoria | 18:45:5618:45 |
| 2018-08-18 14:00:45August 18, 2018 | Auchinleck Talbot | 4 - 0 | Clydebank | 14:00:4514:00 |
| 2018-08-15 19:00:44August 15, 2018 | Cumnock | 0 - 2 | Auchinleck Talbot | 19:00:4419:00 |
| 2018-08-11 15:00:56August 11, 2018 | Auchinleck Talbot | 3 - 1 | Banks O' Dee | 15:00:5615:00 |
| 2018-08-08 19:00:48August 8, 2018 | Auchinleck Talbot | 1 - 1 | Troon | 19:00:4819:00 |
| 2018-08-04 14:00:52August 4, 2018 | Largs Thistle | 0 - 1 | Auchinleck Talbot | 14:00:5214:00 |
| 2018-08-01 18:45:32August 1, 2018 | Auchinleck Talbot | 2 - 1 | Hurlford United | 18:45:3218:45 |
| 2018-07-28 14:00:28July 28, 2018 | Auchinleck Talbot | 1 - 2 | Darvel | 14:00:2814:00 |
| 2018-06-11 19:30:28June 11, 2018 | Hurlford United | 1 - 0 | Auchinleck Talbot | 19:30:2819:30 |
| 2018-06-06 19:30:12June 6, 2018 | Girvan FC | 0 - 0 | Auchinleck Talbot | 19:30:1219:30 |
| 2018-06-02 19:38:43June 2, 2018 | Cumnock | 2 - 2 | Auchinleck Talbot | 19:38:4319:38 |
| 2018-05-27 16:10:54May 27, 2018 | Auchinleck Talbot | 3 - 2 | Hurlford United | 16:10:5416:10 |
| 2018-05-19 14:00:30May 19, 2018 | Auchinleck Talbot | 1 - 2 | Pollok | 14:00:3014:00 |
| 2018-05-14 19:15:51May 14, 2018 | Auchinleck Talbot | 2 - 1 | Glenafton Athletic | 19:15:5119:15 |
| 2018-05-05 14:00:04May 5, 2018 | Kilwinning Rangers | 0 - 1 | Auchinleck Talbot | 14:00:0414:00 |
| 2018-05-02 19:00:59May 2, 2018 | Kilbirnie Ladeside | 1 - 3 | Auchinleck Talbot | 19:00:5919:00 |
| 2018-04-30 19:00:29April 30, 2018 | Hurlford United | 1 - 0 | Auchinleck Talbot | 19:00:2919:00 |
| 2018-04-28 14:00:13April 28, 2018 | Auchinleck Talbot | 4 - 0 | Arthurlie | 14:00:1314:00 |
| 2018-04-25 18:45:44April 25, 2018 | Ardeer Thistle | 0 - 5 | Auchinleck Talbot | 18:45:4418:45 |
| 2018-04-21 14:30:11April 21, 2018 | Lochee United | 0 - 2 | Auchinleck Talbot | 14:30:1114:30 |
| 2018-04-14 14:30:01April 14, 2018 | Auchinleck Talbot | 0 - 1 | Lochee United | 14:30:0114:30 |
| 2018-04-07 14:00:41April 7, 2018 | Whitletts Victoria | 0 - 2 | Auchinleck Talbot | 14:00:4114:00 |
| 2018-03-31 14:00:37March 31, 2018 | Auchinleck Talbot | 2 - 1 | St Rochs | 14:00:3714:00 |
| 2018-03-24 14:00:03March 24, 2018 | Clydebank | 3 - 1 | Auchinleck Talbot | 14:00:0314:00 |
| 2018-03-17 14:30:46March 17, 2018 | Carnoustie Panmure | 0 - 2 | Auchinleck Talbot | 14:30:4614:30 |
| 2018-02-17 14:00:29February 17, 2018 | Auchinleck Talbot | 4 - 1 | Pollok | 14:00:2914:00 |
| 2018-02-03 14:00:12February 3, 2018 | Pollok | 1 - 2 | Auchinleck Talbot | 14:00:1214:00 |
| 2018-01-27 13:45:15January 27, 2018 | Cumnock | 1 - 5 | Auchinleck Talbot | 13:45:1513:45 |
| 2018-01-13 13:45:02January 13, 2018 | Auchinleck Talbot | 5 - 0 | Kilbirnie Ladeside | 13:45:0213:45 |
| 2018-01-06 13:45:17January 6, 2018 | Glenafton Athletic | 0 - 1 | Auchinleck Talbot | 13:45:1713:45 |
| 2017-12-30 13:45:32December 30, 2017 | Auchinleck Talbot | 0 - 1 | Kilwinning Rangers | 13:45:3213:45 |
| 2017-12-23 13:30:09December 23, 2017 | Hill O' Beath | 0 - 2 | Auchinleck Talbot | 13:30:0913:30 |
| 2017-11-18 13:45:36November 18, 2017 | Auchinleck Talbot | 4 - 1 | Kirkintilloch Rob Roy | 13:45:3613:45 |
| 2017-11-11 14:00:17November 11, 2017 | Auchinleck Talbot | 1 - 0 | Carluke Rovers | 14:00:1714:00 |
| 2017-11-04 14:00:15November 4, 2017 | Auchinleck Talbot | 2 - 2 | Beith Juniors | 14:00:1514:00 |
| 2017-10-28 14:30:54October 28, 2017 | Auchinleck Talbot | 8 - 0 | Forres Thistle | 14:30:5414:30 |
| 2017-10-21 14:00:22October 21, 2017 | Auchinleck Talbot | 3 - 2 | Cumnock | 14:00:2214:00 |
| 2017-10-08 14:00:03October 8, 2017 | Auchinleck Talbot | 1 - 0 | Glenafton Athletic | 14:00:0314:00 |
| 2017-09-30 14:00:20September 30, 2017 | Arthurlie | 0 - 5 | Auchinleck Talbot | 14:00:2014:00 |
| 2017-09-16 14:00:02September 16, 2017 | Beith Juniors | 2 - 0 | Auchinleck Talbot | 14:00:0214:00 |
| 2017-09-09 14:00:17September 9, 2017 | Auchinleck Talbot | 5 - 0 | Clydebank | 14:00:1714:00 |
| 2017-08-30 18:30:40August 30, 2017 | Irvine Victoria | 0 - 1 | Auchinleck Talbot | 18:30:4018:30 |
| 2017-08-26 14:00:06August 26, 2017 | Auchinleck Talbot | 4 - 1 | Hurlford United | 14:00:0614:00 |
| 2017-08-23 18:30:16August 23, 2017 | Girvan FC | 0 - 3 | Auchinleck Talbot | 18:30:1618:30 |
| 2017-08-19 14:00:33August 19, 2017 | Kirkintilloch Rob Roy | 4 - 3 | Auchinleck Talbot | 14:00:3314:00 |
| 2017-08-16 18:45:38August 16, 2017 | Auchinleck Talbot | 16 - 0 | Muirkirk Juniors | 18:45:3818:45 |
| 2017-08-02 18:45:21August 2, 2017 | Auchinleck Talbot | 0 - 1 | Glenafton Athletic | 18:45:2118:45 |